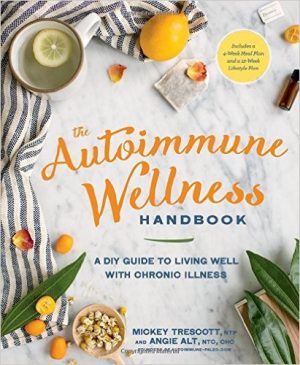 My friends Mickey and Angie of Autoimmune-Paleo recently released a new DIY guide to living well with chronic illness: The Autoimmune Wellness Handbook! What better way to close off the year than by beginning your healing journey with support, empowerment, and tasty food? But before I get to the world's most incredible Bacon-Beef Liver Pate recipe, I'd like to tell you about a few other things I love about this book. The Autoimmune Wellness Handbook contains recipes, a four-week meal plan, a guide to stocking your kitchen and getting rid of "the bad stuff", and a lot of information about the autoimmune protocol and common adaptations like the low-FODMAP diet. But it's not a cookbook. It's also a lifestyle guide and mindset coach. In the first chapter, Inform, you'll learn about autoimmune disease, how to cope with diagnosis, and the kinds of tests you might encounter. You'll learn about treatment options, how to find and work with a qualified practitioner, and how to troubleshoot lingering problems. There are chapters on sleep quality and stress management, arguably more important factors to overall health than diet and exercise are! To help you put it all into practice, there's a twelve-week lifestyle guide to encourage you to rest, breathe, move, and connect in simple, sustainable stages. The appendix contains a staggering amount of references and resources for further reading, making this book a wonderful "gateway drug" to further knowledge. And where the recipes are concerned, you get LOTS of nummies!
In addition to this Bacon-Beef Liver Pate, you'll get recipes like:
Gelatin Gummies
Butternut Breakfast Bake
Thai Seafood Chowder
Apple-Beet Burgers with Parsnip Fries and Horseradish Spread
Curried Chicken Salad
Lemon Pie Date Balls
No-Bake Lemon-Vanilla "Cheesecake"
They're a well-rounded introduction to what food on the autoimmune protocol is like. Simple, flavorful, nutritious, with a little room for indulgence for those special occasions or cravings you just can't kick (hey, it happens). Liver Pate became one of my favorite snacks after I started the AIP. It is a bit of an acquired taste, but it's a taste well worth acquiring: I feel so much better when I eat liver a couple of times a week. I don't know if it's the punch of B vitamins, the iron content (I have a history of moderately suppressed iron levels), or the fact that it's so darn cheap to make because nobody else wants to buy liver. This recipe for Bacon-Beef Liver Pate with Rosemary and Thyme keeps in the fridge for several days and also freezes well. (I made a double batch for this photo and stuck the leftovers in the freezer for next week.) If you don't have a high-powered blender, you can make it in a food processor instead! Making liver this amazing makes The Autoimmune Wellness Handbook well worth the purchase!
Ingredients
6

slices

bacon

1

small

onion

(minced)

4

cloves

garlic

(minced)

1

pound

beef liver

(rinsed, dried, and sliced into 2-3" pieces)

2

tablespoons

fresh rosemary

(minced)

2

tablespoons

fresh thyme

(minced)

1/3

cup

coconut oil

(melted)

1/2

teaspoon

sea salt

fresh herbs

(for garnish)

carrot or cucumber slices

(for serving)
Nutrition Facts
Calories:
787
kcal
Carbohydrates:
16
g
Protein:
56
g
Fat:
53
g
Saturated Fat:
39
g
Polyunsaturated Fat:
3
g
Monounsaturated Fat:
8
g
Trans Fat:
0.4
g
Cholesterol:
650
mg
Sodium:
1192
mg
Potassium:
934
mg
Fiber:
1
g
Sugar:
2
g
Vitamin A:
38300
IU
Vitamin C:
11.6
mg
Calcium:
20
mg
Iron:
11.7
mg
Instructions
Cook the bacon slices over medium heat in a cast-iron skillet, flipping as needed. Cook until crispy. Transfer to a paper towel-lined plate to cool, reserving the fat in the pan.

Add the onions and cook on medium-high heat for about 5 minutes, stirring. Add the garlic and cook for a minute, then add the liver, rosemary, and thyme. Cook for 2 to 5 minutes per side, or until the liver is no longer pink in the center. Set aside to cool for a few minutes.

Transfer the mixture into a blender or food processor with the coconut oil and sea salt. Process until it forms a thick paste.

Place the pate into a small bowl. Chop the cooled bacon into the bowl in fine pieces and combine.

Garnish with the fresh herbs and serve with vegetable slices.