This Avocado Soup is incredible. I had never actually served avocado hot before, and was delighted with its rich, savory flavor… somehow reminiscent of the green enchiladas my mom used to make. Weird, right? I can't explain it. I could, however, go on and on about how delightful soups are this time of year, with their ease of preparation and warm, comforting goodness on a bitterly cold day. We've been having some pretty wacky weather this year, though, with a few days of freezing chill before summer heat swoops back in. I can go to bed at night with the AC on and wake in up the morning in an icebox, but by the time I've put together a nice pot of soup, it's hot again. So much so that I'm sweating as I sit at my desk and type this. Whether you like cold weather or not, it's a disconcerting pattern, considering that ten years ago I'd have been bundled up since the start of October and might even have seen a bit of snow on the ground by now. Instead I'll be spending Thanksgiving in shorts. So I'm doing my best to enjoy the cold days when they happen and savor foods like this one instead of complaining about the chill. You don't know what you've got 'til it's gone, you know?
Need Help Meal Planning?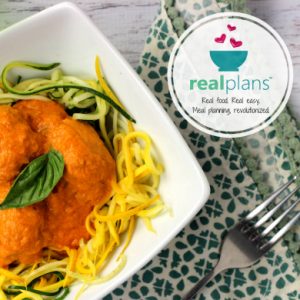 Feeling uninspired or struggling to stick to your Paleo or autoimmune protocol diet? It helps to have a plan. Real Plans will create a custom plan for your family's size, schedule, and needs and it's just $6/month if you sign up for an annual subscription. This is a great next step for those of you that have finished 28 Days of AIP and are looking to keep the ball rolling with new, exciting recipes!
Nutrition Facts
Calories:
413
kcal
Carbohydrates:
15
g
Protein:
37
g
Fat:
24
g
Saturated Fat:
5
g
Polyunsaturated Fat:
4
g
Monounsaturated Fat:
13
g
Cholesterol:
96
mg
Sodium:
1345
mg
Potassium:
865
mg
Fiber:
7
g
Sugar:
2
g
Vitamin A:
400
IU
Vitamin C:
19.8
mg
Calcium:
20
mg
Iron:
2.3
mg
Instructions
Combine all ingredients except the avocado and cilantro in a stock pot.

Bring to a boil, then simmer on medium until the meat is cooked through, about 20 minutes.

Add the avocado and cilantro just before serving.