This Chunky Avocado Salsa recipe was adapted from a recipe I found (and loved!) via one of my fellow vegan bloggers back when I was still doing that whole thing. Gosh, that must have been six or seven years ago. Her site is gone now, sadly (Liz, if you're out there, I hope you've been well!), but I like to think that her fabulous recipe lives on in my household, albeit in a heavily-modified form. The original recipe had black beans, bell peppers, and corn in it, but this autoimmune protocol version is just as tasty. It goes well on salads, burgers, and with chips of any kind! I like to make myself a big ol' serving with plantain chips while my husband can enjoy his with corn chips and whatever spices or seasonings he wants to add (usually a big ol' splash of hot sauce). I like to use it as a guacamole substitute, but would like to emphasize that it is NOT guacamole. It's got olives in it. And no lime or cilantro. Guac purists should stick with my AIP-friendly guacamole recipe.
Keep Your Health on Track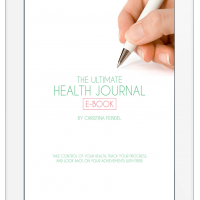 Whether you're starting the autoimmune protocol, a new medication, an exercise routine or trying to get to the bottom of your headaches or indigestion, cataloging your activities and symptoms is a great way to gauge your progress. The Ultimate Health Journal can help you stay on track with diet, fitness, and other lifestyle changes you have begun or been prescribed, notice patterns in your health and lifestyle so you can enact positive changes, and provide a valuable tool for you, your family, and your healthcare team. I would never have noticed that cinnamon makes me sneeze or dairy gives me hiccups without keeping a written record during my elimination diet, which helped me see the patterns that solved my problems! The ebook is available as a digital download with printable template for $6.99.
Nutrition Facts
Calories:
264
kcal
Carbohydrates:
12
g
Protein:
2
g
Fat:
25
g
Saturated Fat:
4
g
Polyunsaturated Fat:
3
g
Monounsaturated Fat:
17
g
Sodium:
376
mg
Potassium:
522
mg
Fiber:
8
g
Sugar:
1
g
Vitamin A:
250
IU
Vitamin C:
20.6
mg
Calcium:
40
mg
Iron:
1.4
mg
Instructions
Combine all ingredients and allow to marinate at least 30 minutes in the fridge.