Dates may seem like a strange thing to include in a veggie stir-fry, but the little bursts of sweetness add a wonderful depth to this Sweet and Sour Asparagus! Think of them as a stand-in for the brown sugar you might find in a more traditional stir-fry sauce or Asian marinade. You can substitute half a tablespoon of raisins per date if you'd prefer (golden raisins would work too). Whichever route you choose to take, this dish is a wonderful way to get your family to eat their greens!
Keep it Simple with Freezer Cooking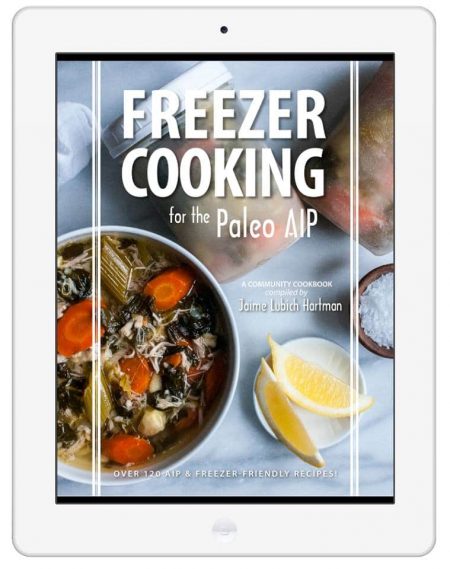 Preparing meals ahead of time and keeping them on hand in the freezer is one of the best ways to make any diet change sustainable. You'll wind up spending less time in the kitchen most days and will always have something ready to go when hunger or cravings strike. With Freezer Cooking for the Paleo AIP, you'll get 123 tried-and-true recipes from 30 of your favorite autoimmune protocol bloggers to help you out. Designed for batch cooking and advance prep, each recipe includes instructions for storing, freezing, and reheating it. There are recipes for every meal of the day and recipes for special occasions, too! The ebook is now available as a digital download for $18.90.
Nutrition Facts
Calories:
183
kcal
Carbohydrates:
17
g
Protein:
5
g
Fat:
12
g
Saturated Fat:
11
g
Polyunsaturated Fat:
1
g
Monounsaturated Fat:
1
g
Sodium:
251
mg
Potassium:
542
mg
Fiber:
7
g
Sugar:
8
g
Vitamin A:
24
%
Vitamin C:
27
%
Calcium:
17
%
Iron:
48
%
Instructions
Saute the asparagus and mushrooms in the oil over medium heat until thoroughly cooked, about 10-15 minutes.

Toss with the lemon juice, thyme, rosemary, salt, and pepper.

Meanwhile, puree the dates, aminos, and fish sauce until smooth. Pour over asparagus and serve.