The role of treats in the Paleo diet, never mind the autoimmune protocol, is a contentious issue. Should sugar be allowed at all? If so, what types of sugar? In what amount? Is a baked good with clean ingredients acceptable if it feeds bad habits? Personally, I find the whole debate tiresome. We do so much good and make so much progress eating such huge amounts of vegetables and seafood in comparison to our previous lifestyles that I think the occasional treat is not only just fine, but well-deserved. If you thrive on a high-discipline, Spartan lifestyle, that's fine. More power to you, really. Other people crack under the pressure which does more harm than good, stressing them out and leading to even bigger lapses like binges. And of course, if you absolutely can't have any sugar because of something like diabetes, that's it's own thing. But there's also a simple solution to the sugar debate, especially appealing to those of us who don't like baking or can't find/afford specialty flours: Reaching for treats whose only sugar content comes from fruit. Like this Apple Bacon Fruit Salad!
It makes for a wonderful and not-unhealthy fall or winter treat and the sweetness can be customized by using your preferred apples. Go with Pink Lady or Gala for something sweeter or Granny Smith if you prefer tartness. Or mix it up and use a little bit of both!
Make your own non-toxic cosmetics!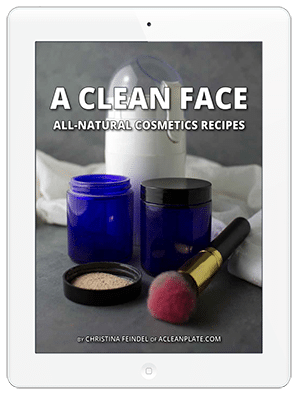 I may make my living as a food blogger, but journey toward a more health-conscious lifestyle actually began with making my own cosmetics while I was still in high school–many years before I started "clean eating". Desperate to get a handle on my sensitive skin and nose, I was also hoping for cheaper, more eco-friendly alternatives to store-bought products. If you're in the same boat, making your own cosmetics and toiletries is easier than you might think! My e-book A Clean Face will give you the tools you need to get started for just $9.99.
Nutrition Facts
Calories:
190
kcal
Carbohydrates:
10
g
Protein:
6
g
Fat:
14
g
Saturated Fat:
3
g
Polyunsaturated Fat:
2
g
Monounsaturated Fat:
8
g
Cholesterol:
18
mg
Sodium:
371
mg
Potassium:
180
mg
Fiber:
2
g
Sugar:
7
g
Vitamin A:
100
IU
Vitamin C:
8.3
mg
Calcium:
10
mg
Iron:
0.5
mg
Instructions
In a large skillet over medium heat, cook the bacon until crispy, about 10 minutes.

Drain the bacon on paper towels, let cool, then crumble into bits.

Combine all ingredients in a bowl and mix well.