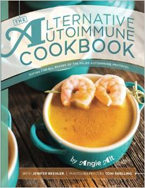 Angie Alt of Autoimmune Paleo is one of the most compassionate, kind, and endearing people I've ever met. Angie keeps it real. She doesn't pretend to be perfect and she doesn't expect anyone else to be perfect, either. She understands living with illness. She's the person to go to for moral support and practical tips on making it through the day-to-day of cooking, family, socializing, and all of the emotional struggles that go along with chronic illness. Her debut book The Alternative Autoimmune Cookbook (written with her sister, Jenifer Beehler) brings her expertise and heart to your kitchen. Angie explains what the autoimmune protocol is and what her personal experience with it was. She provides information for eliminating foods in steps and then reintroducing them systematically for the best results after the elimination phase. There are food lists, a food diary, and information about what a food reaction might look like. And in true Angie style, there are articles throughout the book that address the emotional and mental aspects of recovery. From fun segments like "My Butt Manifesto" to articles on anger, denial, and cheating, Angie brings both her spunky attitude and true heart to the healing process. Not to mention that the book is stunningly gorgeous. With bold colors, adorable illustrations, and bright professional photographs, The Alternative Autoimmune Cookbook is fresh, fun, and uplifting, like a clear sky on a bright sunny day. It's exactly the spirit a cookbook about proactively taking on autoimmune disease should have.
The recipes in The Alternative Autoimmune Cookbook are divided by type of dish (Meaty Mains, Soups and Sides, and Drinks and Desserts) and then further divided by whether they are elimination-phase recipes or recipes for various stages of reintroduction. Each recipe in the reintroduction phases has a handy alert letting you know which ingredient you need to have reintroduced, and some have tips for omitting these ingredients to make the recipe elimination-phase compliant. Angie includes prep and cook times, serving sizes, and helpful tips on finding ingredients, serving the dish, alternative ways to prep or cook it, and in a few cases, adapting the dish to be FODMAP-free. Angie's recipes are simple and uncomplicated, making the cookbook accessible even for inexperienced chefs or those with limited time and energy. I have loved every recipe I have made so far. Angie is a master of making simple home cooking creative but not complicated.
Try this Rosemary and Shallot Roasted Butternut Squash for a taste of how simple and delicious the rest of the recipes in the book are!
The Alternative Autoimmune Cookbook is an extraordinarily well-put-together, well-rounded resource for anyone taking on the autoimmune protocol, whether just beginning, struggling to stay on track, or looking for fresh motivation to continue taking good care of themselves. The balance between good food and positive thinking, proactive action, and learning to accept the things we can't control is uniquely Angie, and I guarantee that this book will make you love her as much as I do! It is available both as an e-book and in print.
Nutrition Facts
Calories:
167
kcal
Carbohydrates:
16
g
Protein:
2
g
Fat:
11
g
Saturated Fat:
10
g
Polyunsaturated Fat:
0.5
g
Monounsaturated Fat:
1
g
Sodium:
484
mg
Potassium:
453
mg
Fiber:
3
g
Sugar:
3
g
Vitamin A:
12250
IU
Vitamin C:
34.7
mg
Calcium:
80
mg
Iron:
1.4
mg
Instructions
Preheat oven to 400 degrees. Put diced squash in a large bowl and drizzle with oil. Add shallots, rosemary and salt. Stir to coat.

Spread squash in a single layer on a baking sheet. Roast 30 minutes, stirring halfway through for even browning. Serve and enjoy!