One of the biggest concerns of people on any limited diet is "Where can I go to eat out?" or "What do I do if there's a social event involving food?" Birthdays, weddings, holidays, and dating all suddenly become much bigger hurdles than they were before. There are really only a few ways to handle these situations:
Go, eat, and risk ingesting something you shouldn't.
Go, but either bring your own food or eat before you go.
Don't go, and find something else to do with your friends/family.
I usually opt for #3, but I'm not averse to going out and not ordering anything. I love the food I make at home and I especially love that I know it's safe. So, I am just fine with sitting at a table with my glass of water while my friends and family eat. It might be hard and awkward for anyone new to their diet to sit there with all that food around them, but it gets easier. Nothing like a little bit of immersion therapy!
If you do opt for #3, you're likely to then wonder "What can I do instead of eating out?" My man's idea of a date is dinner and a movie and my friends and coworkers sure do love their sushi, potluck dinners, and office parties, so I sympathize. But, there's a whole world out there! Convince your significant others, friends, and family to be a little more adventurous. Try something like:
Game Night – Whether you prefer video games, card games, or board games, a little competition or collaboration with your loved ones can make for a lot of fun. Some of our favorite games (video, card, and board alike) are Halo, Super Smash Brothers, Apples to Apples, Munchkin, and Risk. While a little libation and some snacking wouldn't go unappreciated at game night, it's easy to provide safe foods for yourself, and you'll be too busy having fun to feel left out.
Sports Night – This one's got something for everyone. From bowling, pool, and laser tag to golf, tennis, kickball, and football, a bit of physical activity on a nice day can make for a good time. You might work up an appetite, so make sure you can eat shortly before or after… it shouldn't be too hard to make your excuses to head home for a nice meal immediately afterwards if everyone's all sweaty!
Nature – Make a day of visiting a local park or nature preserve, take a picnic, go for a hike, throw a Frisbee, take the dog out, go kayaking, visit a zoo, go to the beach or just lay out and soak up some sun.
Entertainment – Go to the movies or visit a local theater, symphony, ballet, or museum. If being around all that popcorn bugs you, maybe you can sneak in a bag of carrot sticks or something to munch on.
Stay In – Make a night of it. Set a nice table or pack up a picnic, even if you only go as far as the backyard. Make meal prep a joint-effort part of the date or set up a salad bar or buffet if it's a group event. Curl up on the couch with a TV show or movie you both want to watch, read a book together, work on something artsy, play a game, or start a household project that you've been putting off… as long as you both understand that you're there to help each other and make things easier, not get frustrated with the project and take it out on each other. 😉
Our favorite is game night, but it's been hard lately since we're both working different hours. Every day of the week, one of us has to be up early to go to work, so late nights are out of the question. I like to do outdoors things, while he wants to go bowling. We haven't reached a compromise on that one yet. We have a lot of shows we both like and it's nice to wind down at the end of a workday with a fruit-based treat and a good story. And since the cat likes to go for walks, that's a good way to spend some quality time together too!
All-natural, organic makeup and skin care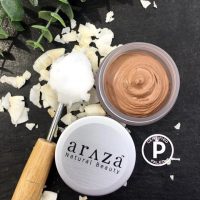 Araza Natural Beauty, founded by two sisters with Celiac disease, is the first Paleo-certified beauty company to offer a full range of products for skin, eyes, cheeks, and lips–all of which are additive, dairy, and gluten free. In all my years of experimenting with natural makeup, this has become my favorite, fool-proof brand for everyday looks!