Before I went Paleo, pretty much the only way you could get me to eat broccoli was to drench it in ranch dressing or cheese. But "getting healthy" opened my eyes to a whole new world of vegetable dishes. And I do mean world. What's kept me going on the autoimmune protocol for the past few years has been my passion for adapting ethnic dishes from all over the globe – or better yet, finding ones that don't need to be adapted! – to keep things interesting. This particular broccoli salad, served raw and cold, is an adaptation of a Moroccan recipe using tomatoes, peppers, and cream. My version adds carrots and coconut and gets just a hint of heat from ginger.
Make your own non-toxic cosmetics!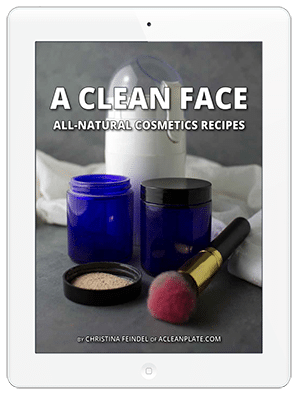 I may make my living as a food blogger, but journey toward a more health-conscious lifestyle actually began with making my own cosmetics while I was still in high school–many years before I started "clean eating". Desperate to get a handle on my sensitive skin and nose, I was also hoping for cheaper, more eco-friendly alternatives to store-bought products. If you're in the same boat, making your own cosmetics and toiletries is easier than you might think! My e-book A Clean Face will give you the tools you need to get started for just $9.99.
Nutrition Facts
Calories:
115
kcal
Carbohydrates:
16
g
Protein:
5
g
Fat:
5
g
Saturated Fat:
4
g
Polyunsaturated Fat:
0.1
g
Monounsaturated Fat:
0.04
g
Sodium:
193
mg
Potassium:
625
mg
Fiber:
5
g
Sugar:
5
g
Vitamin A:
5950
IU
Vitamin C:
191.4
mg
Calcium:
80
mg
Iron:
1.8
mg
Instructions
Combine all ingredients in a large bowl and refrigerate at least 30 minutes to let the flavors meld before serving.