Why is food quality important? The short answer is that higher-quality food is higher in nutrients, so even though it may cost a little more, it also packs more punch. The long answer is that higher-quality food is not only better for you, it's better for the environment, animals, and economy.
Meat
In addition to being less friendly for the environment and animal welfare, conventional meats tend to be less nutrient-dense and higher in omega-6 fatty acids, which can contribute to inflammation if you aren't eating enough omega-3s. You can still reap the benefits of the Paleo diet whether you buy grass-fed meat or not, but finding the room for grass-fed in your budget can give you a certain peace of mind, knowing that you're doing your part to support sustainable, ethical practices. It's even more rewarding if you can find a good local farm to support!
IF YOU CAN
Seafood: Wild
Poultry and Pork: Wild or pastured
Meat: Wild or grass-fed and grass-finished
Produce: Local, organic, and in season
Oils: Unrefined, organic, and cold-pressed
MIDDLE GROUND
Seafood: Wild-caught
Poultry and Pork: Organic
Meat: Grass-fed or pastured
Produce: Local or organic
Oils: Organic or cold-pressed
IF YOU MUST
Seafood: Farm-raised
Poultry and Pork: Commercial
Meat: Commercial
Produce: Conventional
Oils: Conventional
PRODUCE
We all know by now that we should be minimizing our exposure to pesticides, which are not only problematic for sensitive individuals, but also for the environment by contributing to soil erosion, mineral depletion, and pollution. But many of us can't afford the added expense of organic foods. According to the EWG, just buying the "dirty dozen" produce items that are highest in toxins organic can cut back on the amount of toxins you ingest every day by as much as 80%! The criteria for making the "dirty dozen" list included testing positive for at least 47 different chemicals… after the produce had been power-washed. Wow. So if you can't afford to buy everything organic, you should definitely consider buying those organic… or just opt for the safer "clean fifteen" instead. You'll get even more nutrients from wild produce. The following lists have been adapted for the autoimmune protocol, excluding the nightshades, grains, and legumes EWG's lists contain. The complete list can be found on the EWG's website.
THE DIRTY DOZEN
apples
celery
peaches
strawberries
nectarines
grapes
spinach, kale, and collard greens
lettuce
cucumbers
blueberries
cherries
pears
THE CLEAN FIFTEEN
onions
pineapple
avocado
cabbage
asparagus
mango
kiwi
cantaloupe
sweet potatoes
grapefruit
watermelon
mushrooms
winter squash
plums
papaya
Looking for Some Simple AIP Recipes?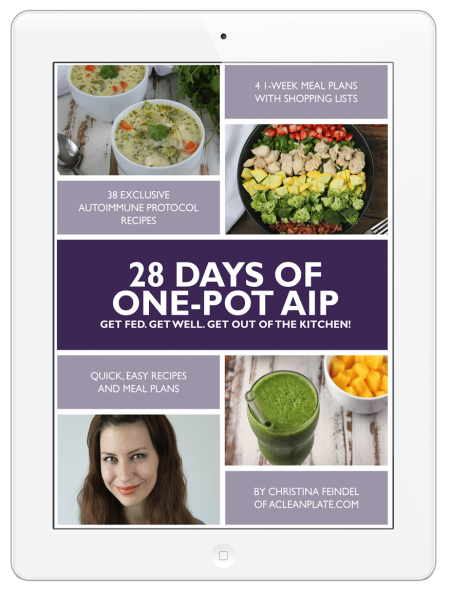 When you're dealing with fatigue, pain, or illness, eating healthy is hard enough without having to multitask while cooking or clean up a huge mess afterwards. That's why one-pot meals are my favorite. 28 Days of One-Pot AIP is exactly what it sounds like: A 28-day meal plan featuring only 100% autoimmune protocol, one-pot recipes. There's an intro to explain the AIP and one-pot cooking and the preparation is so much simpler when you've only got one thing to keep track of. Plus, you'll be amazed at the variety of flavors still available to you, like my Chicken Pot Pie Soup, satisfying green smoothies, and colorful salads! The e-book is now available for $9.99.