Paleo and other whole-foods diets embrace nutrient-density and sustainability, which means using high-quality fats that retain some nutritional value after processing. Usually, this means oils that are minimally processed and made from the most nutrient-dense plants or animals. Animal fats get extra points for sustainability because you can make them yourself using the fat trimmed from the meat you buy or by saving a skillet of bacon grease for later use!
COOKING FATS AND SMOKE POINT
As a general rule, heat cooking fats to no more than 5-10 degrees below their smoke points.
COLD-USE FATS
Cold-use fats are great for adding to smoothies, salad dressings, and other condiments, or for any other use that does not involve heat.
New Budget-Friendly AIP Cookbook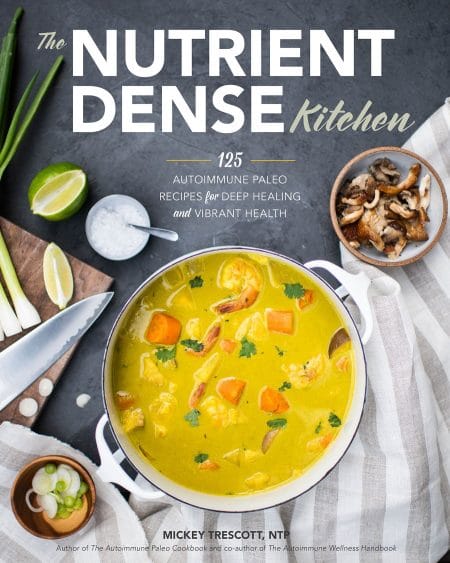 The Nutrient Dense Kitchen is a beautiful, simple cookbook all about helping you understand which ingredients will give you the most nutritional bang for your buck, and showing you how to incorporate them into your diet in efficient, budget-friendly, and delicious ways. With 125 AIP recipes, 5 meal plans, and a pre-order campaign with lots of extra goodies, it's a cookbook you're guaranteed to cherish. Pre-Order Now!