Paleo and other whole-foods diets embrace nutrient-density and sustainability, which means using high-quality fats that retain some nutritional value after processing. Usually, this means oils that are minimally processed and made from the most nutrient-dense plants or animals. Animal fats get extra points for sustainability because you can make them yourself using the fat trimmed from the meat you buy or by saving a skillet of bacon grease for later use!
COOKING FATS AND SMOKE POINT
As a general rule, heat cooking fats to no more than 5-10 degrees below their smoke points.
COLD-USE FATS
Cold-use fats are great for adding to smoothies, salad dressings, and other condiments, or for any other use that does not involve heat.
Looking for Low-Histamine Recipes?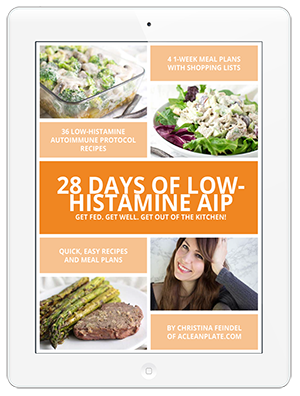 A low-histamine diet can be immensely helpful for MAST cell disorders or people with excess histamine production, but it's an extremely tricky diet to manage. My e-book 28 Days of Low-Histamine AIP combines low-histamine foods with the anti-inflammatory autoimmune protocol diet in a 28-day meal plan designed to jump start and simplify your diet change. The meal plan includes 36 simple, satisfying low-histamine recipes including a variety of dishes like Chicken Schawarma, Cabbage Roll Stir-Fry, and Chimichurri Steaks. You'll be amazed at all the flavors still available to you! The ebook is available as a digital download for $9.99.