Paleo and other whole-foods diets embrace nutrient-density and sustainability, which means using high-quality fats that retain some nutritional value after processing. Usually, this means oils that are minimally processed and made from the most nutrient-dense plants or animals. Animal fats get extra points for sustainability because you can make them yourself using the fat trimmed from the meat you buy or by saving a skillet of bacon grease for later use!
COOKING FATS AND SMOKE POINT
As a general rule, heat cooking fats to no more than 5-10 degrees below their smoke points.
COLD-USE FATS
Cold-use fats are great for adding to smoothies, salad dressings, and other condiments, or for any other use that does not involve heat.
Looking for AIP-Friendly Breakfast Recipes?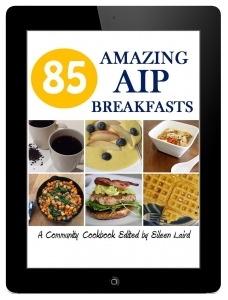 What to eat for breakfast is one of the most common questions I get from people starting the autoimmune protocol. I understand completely: With all my old staples off the table, breakfast was my biggest challenge, too. Well, now there's an easy answer. 85 Amazing AIP Breakfasts is a community e-cookbook featuring dozens of breakfast-friendly autoimmune protocol recipes from some of your favorite bloggers. With coffee substitutes, comforting teas, sausage, waffles, stir-fries, soups, hash, muffins, and porridge, 85 Amazing AIP Breakfasts has just about every one of your breakfast needs covered, sweet and savory alike. Many of the recipes can even be adapted for a low-FODMAP diet! The e-cookbook is available on editor Eileen Laird's website.