One of the things I missed most when I started the autoimmune protocol was spicy, tomatoey ethnic food–whether it was salsa, jambalaya, or tikka masala, I was devastated to think I couldn't eat those things anymore and might not be able to ever again if reintroducing those spices, tomatoes, and peppers didn't go well. So, naturally, once I started developing recipes, coming up with AIP-friendly versions of these was my first order of business! And not to toot my own horn, but this Chicken Makhani delivers. It's not only quick and easy to make, but 100% Paleo and autoimmune protocol-compliant. (Of course, those of you who don't have to follow the AIP can use regular tomato sauce and heavy cream instead of coconut milk, if you like.) Plus, it's really, really tasty. This'll satisfy those curry cravings, guaranteed!
Treat Your Sweet Tooth!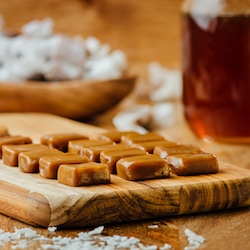 Being on a restricted diet doesn't mean you have to give up every indulgence. Temptation can be rough, and when it strikes, it's nice to have something on hand that's safe to eat. Enter Sweet Apricity. They make creamy, delicious caramels and fluffy marshmallows that just so happen to be 100% autoimmune protocol-friendly. With excellent customer service, high-quality ingredients, a subscribe and save program, and some of the most incredible sweets you'll encounter on the AIP, your sweet tooth doesn't have to go wanting. Plus, they're a great gift for anyone with food sensitivities!
Chicken Makhani
PREP TIME:

5

minutes

COOK TIME:

30

minutes

YIELDS:

4

servings

RATING:
CALORIES:
486kcal
PROTEIN:
30g
TOTAL FAT:
35g
MUFA:
7g
PUFA:
4g
SATURATED:
20g
CHOLESTEROL:
104mg
TOTAL CARBS:
12g
FIBER:
2g
SUGARS:
4g
VITAMIN C:
19%
POTASSIUM:
571mg
SODIUM:
488mg
CALCIUM:
1%
IRON:
17%
Instructions
In a large saucepan over medium-high heat, heat the oil and then cook the shallot and onion until translucent, about 2 minutes.
Stir in the garlic, lemon, and seasonings and cook 1 minute.
Add the coconut milk and tomato puree and stir 2 minutes.
Add the chicken, reduce the heat to medium-low, and simmer for 15-20 minutes or until the chicken is cooked through.