One of the things I missed most when I started the autoimmune protocol was spicy, tomatoey ethnic food–whether it was salsa, jambalaya, or tikka masala, I was devastated to think I couldn't eat those things anymore and might not be able to ever again if reintroducing those spices, tomatoes, and peppers didn't go well. So, naturally, once I started developing recipes, coming up with AIP-friendly versions of these was my first order of business! And not to toot my own horn, but this Chicken Makhani delivers. It's not only quick and easy to make, but 100% Paleo and autoimmune protocol-compliant. (Of course, those of you who don't have to follow the AIP can use regular tomato sauce and heavy cream instead of coconut milk, if you like.) Plus, it's really, really tasty. This'll satisfy those curry cravings, guaranteed!
Struggling with thyroid disease?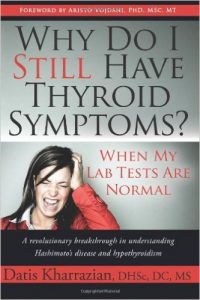 Why Do I Still Have Thyroid Symptoms? by functional medicine practitioner Datis Kharrazian is single-handedly responsible for my improved health over the past few years. It introduced me to the connection between autoimmune disease and lifestyle factors like diet at a time when my doctors were telling me there was nothing wrong with my thyroid even though I had high antibodies. This book gave me the information I needed to get the right tests ordered and seek proper treatment. It's a must-have guide for anyone who has already been diagnosed with thyroid disease, who is at risk due to family history, or who strongly suspects they may have it but isn't sure where to start. I can't recommend it enough!
Nutrition Facts
Calories:
486
kcal
Carbohydrates:
12
g
Protein:
30
g
Fat:
35
g
Saturated Fat:
20
g
Polyunsaturated Fat:
4
g
Monounsaturated Fat:
7
g
Cholesterol:
104
mg
Sodium:
488
mg
Potassium:
571
mg
Fiber:
2
g
Sugar:
4
g
Vitamin A:
10
%
Vitamin C:
19
%
Calcium:
1
%
Iron:
17
%
Instructions
In a large saucepan over medium-high heat, heat the oil and then cook the shallot and onion until translucent, about 2 minutes.

Stir in the garlic, lemon, and seasonings and cook 1 minute.

Add the coconut milk and tomato puree and stir 2 minutes.

Add the chicken, reduce the heat to medium-low, and simmer for 15-20 minutes or until the chicken is cooked through.