I once had some of this served over a very dry grilled steak at a bar in Austin. The meal wasn't very impressive, especially considering its price tag, but the chimichurri was incredible. Behold my less-than-faithful recreation, which omits the nasty nightshades the original contained.
Make your own non-toxic cosmetics!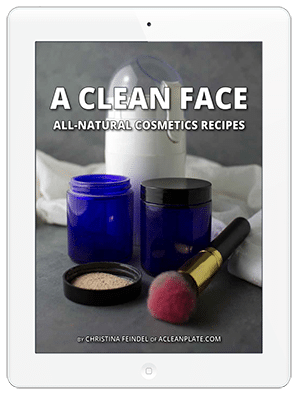 I may make my living as a food blogger, but journey toward a more health-conscious lifestyle actually began with making my own cosmetics while I was still in high school–many years before I started "clean eating". Desperate to get a handle on my sensitive skin and nose, I was also hoping for cheaper, more eco-friendly alternatives to store-bought products. If you're in the same boat, making your own cosmetics and toiletries is easier than you might think! My e-book A Clean Face will give you the tools you need to get started for just $9.99.
Nutrition Facts
Calories:
1242
kcal
Carbohydrates:
36
g
Protein:
13
g
Fat:
122
g
Saturated Fat:
17
g
Polyunsaturated Fat:
13
g
Monounsaturated Fat:
88
g
Sodium:
691
mg
Potassium:
2820
mg
Fiber:
19
g
Sugar:
6
g
Vitamin A:
665
%
Vitamin C:
237
%
Calcium:
60
%
Iron:
89
%
Instructions
Combine all ingredients in a food processor or blender and pulse until the herbs are finely chopped, but not pureed.

Refrigerate at least 30 minutes to let the flavors develop.