It can be hard to decide what to eat on a busy weeknight or stressful day. Maybe there are so many recipes you want to try that you can't decide where to start. Or maybe nothing sounds good because you're tired, sick, or just don't feel like cooking. Whatever the reason, it's nice to have a few quick-and-easy staples to fall back on when you need them. And dinner doesn't get much easier than this Garlic Steak with Lemon-Pepper Asparagus! Who doesn't love a good, well-seasoned steak? I like mine rare, which only takes a few minutes to cook and comes away with a texture that's almost buttery. Of course, you can and should cook your steak to your own liking, but the difference between rare and well-done is only a few minutes, so keep an eye on it. As for the asparagus, it's my go-to side dish because asparagus is one of the few green vegetables my husband actually likes. He'll tolerate broccoli and certain types of Brussels sprouts but he actually looks forward to eating asparagus done right. Hallelujah. Cooked just right, these spears are crisp but not tough and bursting with tart, savory flavors that will titillate your taste buds.
Struggling with thyroid disease?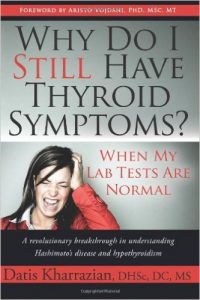 Why Do I Still Have Thyroid Symptoms? by functional medicine practitioner Datis Kharrazian is single-handedly responsible for my improved health over the past few years. It introduced me to the connection between autoimmune disease and lifestyle factors like diet at a time when my doctors were telling me there was nothing wrong with my thyroid even though I had high antibodies. This book gave me the information I needed to get the right tests ordered and seek proper treatment. It's a must-have guide for anyone who has already been diagnosed with thyroid disease, who is at risk due to family history, or who strongly suspects they may have it but isn't sure where to start. I can't recommend it enough!
Nutrition Facts
Calories:
477
kcal
Carbohydrates:
11
g
Protein:
36
g
Fat:
32
g
Saturated Fat:
21
g
Polyunsaturated Fat:
1
g
Monounsaturated Fat:
8
g
Cholesterol:
92
mg
Sodium:
792
mg
Potassium:
842
mg
Fiber:
5
g
Sugar:
4
g
Vitamin A:
1800
IU
Vitamin C:
30.5
mg
Calcium:
70
mg
Iron:
8.3
mg
Instructions
Preheat the oven to 425 degrees F.

Rub the garlic over the steak on both sides and season liberally with salt and pepper, then set aside.

Combine all ingredients for the asparagus in a large bowl and toss to coat.

Arrange the asparagus on a parchment-lined baking sheet and bake for 10 minutes.

Add the steak to the baking sheet and bake another 5-8 minutes, flipping once halfway through, until the steak is cooked to your preference.