It can be hard to decide what to eat on a busy weeknight or stressful day. Maybe there are so many recipes you want to try that you can't decide where to start. Or maybe nothing sounds good because you're tired, sick, or just don't feel like cooking. Whatever the reason, it's nice to have a few quick-and-easy staples to fall back on when you need them. And dinner doesn't get much easier than this Garlic Steak with Lemon-Pepper Asparagus! Who doesn't love a good, well-seasoned steak? I like mine rare, which only takes a few minutes to cook and comes away with a texture that's almost buttery. Of course, you can and should cook your steak to your own liking, but the difference between rare and well-done is only a few minutes, so keep an eye on it. As for the asparagus, it's my go-to side dish because asparagus is one of the few green vegetables my husband actually likes. He'll tolerate broccoli and certain types of Brussels sprouts but he actually looks forward to eating asparagus done right. Hallelujah. Cooked just right, these spears are crisp but not tough and bursting with tart, savory flavors that will titillate your taste buds.
Looking for high-quality meat?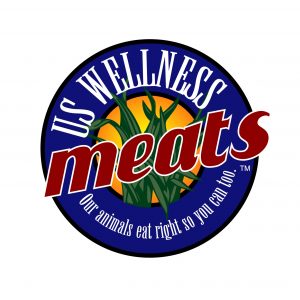 The great nutrition conundrum of our times is how to make a healthy diet sustainable, not just for us and our families, but for future generations. It's no secret that factory farming has been disastrous for the environment, never mind the welfare of us or our food. So I try to prioritize ethically-harvested, sustainably-raised, grass-fed or pastured proteins. US Wellness Meats not only fits the bill, but they also have a huge variety of other products: Seafood, game meats, jerky, bone broth, sausage, tallow, pork rinds… there's a lot to love. Free shipping combined with bi-weekly deals from their newsletter can make them more affordable than your local supermarket for meat that's antibiotic-free, humanely-raised, and really, really good.
Nutrition Facts
Calories:
477
kcal
Carbohydrates:
11
g
Protein:
36
g
Fat:
32
g
Saturated Fat:
21
g
Polyunsaturated Fat:
1
g
Monounsaturated Fat:
8
g
Cholesterol:
92
mg
Sodium:
792
mg
Potassium:
842
mg
Fiber:
5
g
Sugar:
4
g
Vitamin A:
36
%
Vitamin C:
37
%
Calcium:
7
%
Iron:
46
%
Instructions
Preheat the oven to 425 degrees F.

Rub the garlic over the steak on both sides and season liberally with salt and pepper, then set aside.

Combine all ingredients for the asparagus in a large bowl and toss to coat.

Arrange the asparagus on a parchment-lined baking sheet and bake for 10 minutes.

Add the steak to the baking sheet and bake another 5-8 minutes, flipping once halfway through, until the steak is cooked to your preference.