These BBQ Chicken Sausage Patties were inspired by one of my favorite pizzas, a delicious BBQ chicken concoction I first enjoyed at California Pizza Kitchen. (It's one of the few pizzas they have available with a gluten-free crust, which made it even more awesome.) But my love of barbecue sauce goes way, way back before my gluten-free days. As a kid, I wouldn't touch meat unless it was swimming in barbecue sauce. Well, I would, but I don't remember being happy about it. What ketchup and ranch were to vegetables, barbecue sauce is to meat: It'll make anything taste good. So it was well past time I came up with an autoimmune protocol-friendly BBQ recipe.
Especially now that there's an AIP barbecue sauce available!
I've tried making my own. I mean, AIP barbecue sauce is the kind of recipe that would be a big hit on the blog, right? But it just never felt quite right to me. And I tried other blogger's recipes, too. Some of them contained ingredients I had a hard time sourcing, still didn't taste the way I wanted them to, or wound up scorched to the bottom of a pan because their cooking times turned out to be way too long for my kitchen. My point is, my quest for a homemade barbecue sauce has been frustrating. And I'm probably not the only person that would rather pay for a good sauce than waste time and ingredients trying and failing to make my own. So I was thrilled when KC Natural started selling not one but two flavors of AIP-friendly barbecue sauce! Either one will work well in this recipe, though I personally prefer the Mastodon. And if you have mastered homemade BBQ sauce, I have two notes for you: 1) That'll work here, too and 2) PLEASE SHARE YOUR SECRET!
Haha. But seriously.
Keep Your Health on Track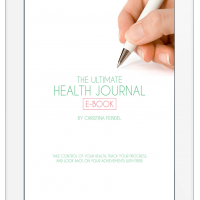 Whether you're starting the autoimmune protocol, a new medication, an exercise routine or trying to get to the bottom of your headaches or indigestion, cataloging your activities and symptoms is a great way to gauge your progress. The Ultimate Health Journal can help you stay on track with diet, fitness, and other lifestyle changes you have begun or been prescribed, notice patterns in your health and lifestyle so you can enact positive changes, and provide a valuable tool for you, your family, and your healthcare team. I would never have noticed that cinnamon makes me sneeze or dairy gives me hiccups without keeping a written record during my elimination diet, which helped me see the patterns that solved my problems! The ebook is available as a digital download with printable template for $6.99.
Nutrition Facts
Calories:
354
kcal
Carbohydrates:
4
g
Protein:
31
g
Fat:
23
g
Saturated Fat:
11
g
Polyunsaturated Fat:
4
g
Monounsaturated Fat:
7
g
Cholesterol:
97
mg
Sodium:
586
mg
Potassium:
305
mg
Fiber:
0.4
g
Sugar:
1
g
Vitamin A:
250
IU
Vitamin C:
3.3
mg
Calcium:
10
mg
Iron:
1.6
mg
Instructions
Combine all ingredients except the oil and form into 1" balls.

Heat the cooking fat in a skillet over medium heat and saute the meatballs until cooked through, about 10-15 minutes, stirring occasionally.