Fruit cakes are becoming very popular in the health world, and I seriously considered having one at my wedding. The only reason I didn't is because we eloped and I didn't want to go to the trouble of making that big, beautiful cake for so few people. But here's my recipe, for your next special occasion! I like to use dates, figs, or apricots for the dried fruit and edible flowers would be a next-level decoration, but you can use any fruit you like for the toppings. Sliced strawberries and pineapple rings are lovely, but I recommend staying away from anything that would brown, like bananas or apples.
Looking for Some Simple AIP Recipes?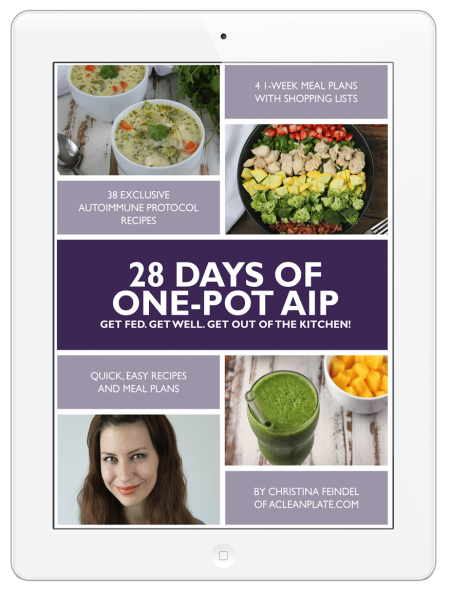 When you're dealing with fatigue, pain, or illness, eating healthy is hard enough without having to multitask while cooking or clean up a huge mess afterwards. That's why one-pot meals are my favorite. 28 Days of One-Pot AIP is exactly what it sounds like: A 28-day meal plan featuring only 100% autoimmune protocol, one-pot recipes. There's an intro to explain the AIP and one-pot cooking and the preparation is so much simpler when you've only got one thing to keep track of. Plus, you'll be amazed at the variety of flavors still available to you, like my Chicken Pot Pie Soup, satisfying green smoothies, and colorful salads! The e-book is now available for $9.99.
Instructions
Cut the rind from the watermelon and form the whole fruit into a cylinder, with sides as straight as you can manage.

Slice the watermelon into two or three 2" layers, depending on how large your fruit is.

Spread about 3/4 cup of the whipped cream on top of each layer, then stack the layers like a cake.

Spread the remaining whipped cream on the top and sides (you may have to periodically refrigerate the cake to get the cream to stick).

Decorate with fresh and dried fruit, then serve cold.