If I had to pick my all-time favorite side dish, I'd have to go with french fries. I was unreasonably obsessed with them as a kid, often not eating the rest of my meal because I'd shovel the side of fries into my mouth first thing and then run out of room for whatever else was on the plate. Even as an adult, the habit persisted. I just couldn't get enough of those salty, crispy potato strings. And you want to eat them while they're still fresh and hot, right? Otherwise they get soggy. And they were one side dish I never managed to master at home (probably because I never forked over the cash for a deep frier.) Well, now that I've stopped eating potatoes, I'm healthier and happier for it, but there's still nothing I enjoy more than a good side of fries. Or the closest thing. With crispy, crunchy outsides and starchy, fluffy insides, Tostones are the best french fry substitute whether you're trying to cut carbs, can't eat nightshades, or just looking for something new to try. They pair well with ketchup but are equally delicious on their own and can be salted to taste!
Budget-Friendly AIP Cookbook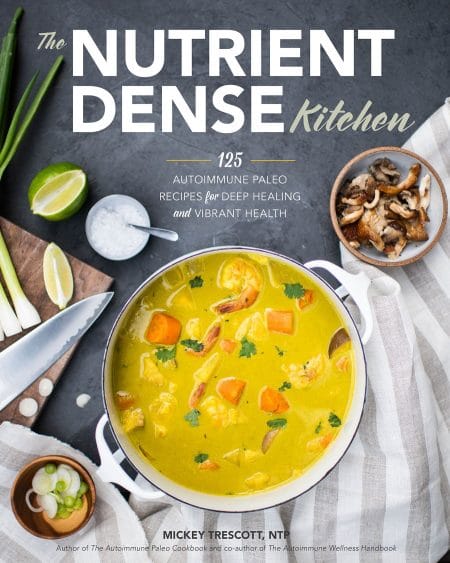 The Nutrient Dense Kitchen is a beautiful, simple cookbook all about helping you understand which ingredients will give you the most nutritional bang for your buck, and showing you how to incorporate them into your diet in efficient, budget-friendly, and delicious ways. With 125 AIP recipes and 5 meal plans, it's a cookbook you're guaranteed to cherish. Now available on Amazon.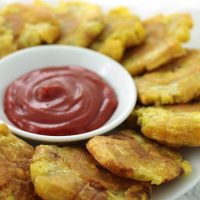 Print Recipe
Tostones
Ingredients
2

green

plantain

sliced into 1" discs

1

cup

coconut oil

1/2

teaspoon

sea salt
Instructions
Heat the oil in large skillet over medium heat.

Cook the plantains in the oil in a single layer (in batches, if necessary) until golden-brown.

Flip the plantains over and cook another 2 minutes, then remove from the skillet.

Smash the plantain discs with a pan or meat hammer until about 1/4" thick.

Return to the skillet and cook another 2 minutes per side.

Sprinkle with salt before serving.