I don't cook pork often, because it isn't one of the cheaper cuts of meat. And, to be completely honest, I never liked it that much. My memories of pork chops tended to involve a dry hunk of meat saturated in gravy and mashed potatoes from a box–my husband had a similar experience growing up. Not the most appetizing of meals. But one thing I've learned since I began preparing my own meals in my mid-teens: Stuff tastes a lot better than you give it credit for. You just gotta figure out how to cook it right! The marinade for these Sweet 'n' Spicy Pork Chops takes care of the "dry" issue and packs way more flavor than potatoes ever did. Serve these with your favorite Asian-inspired sides (rice and steamed veggies are an easy go-to) or keep things extra simple with a big side salad, like we did!
Budget-Friendly AIP Cookbook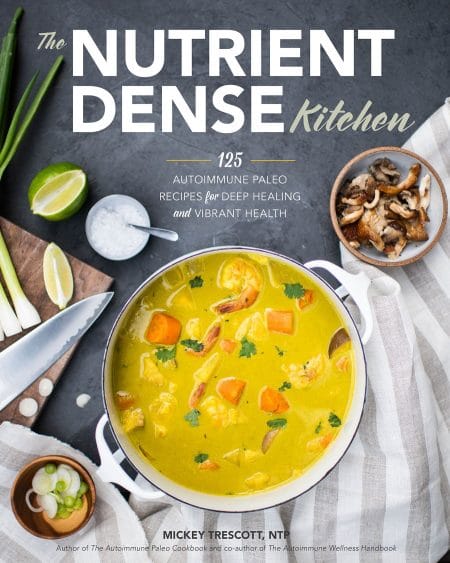 The Nutrient Dense Kitchen is a beautiful, simple cookbook all about helping you understand which ingredients will give you the most nutritional bang for your buck, and showing you how to incorporate them into your diet in efficient, budget-friendly, and delicious ways. With 125 AIP recipes and 5 meal plans, it's a cookbook you're guaranteed to cherish. Now available on Amazon.
Nutrition Facts
Calories:
306
kcal
Carbohydrates:
11
g
Protein:
24
g
Fat:
18
g
Saturated Fat:
5
g
Polyunsaturated Fat:
2
g
Monounsaturated Fat:
9
g
Cholesterol:
72
mg
Sodium:
858
mg
Potassium:
368
mg
Fiber:
3
g
Sugar:
6
g
Vitamin C:
2.5
mg
Calcium:
20
mg
Iron:
0.9
mg
Instructions
Combine all ingredients in a baking dish and marinate in the fridge for at least 30 minutes.

Preheat oven to 400 degrees F. Roast 20-30 minutes or until the internal temperature registers at least 145 degrees F, flipping once halfway through.