As someone with a lot of food sensitivities who always liked to cook, I've had to do a lot of trial and error finding decent substitutes for a lot of foods in traditional recipes. Back when Paleo and AIP food blogs weren't a dime a dozen, trial and error was pretty much the only option! Even if you started with a grain- and dairy-free recipe, you might also have to cut out nuts or sugars, certain spices, nightshades like tomatoes… it could get real complicated, real fast. But I've always enjoyed the challenge of trying to take recipes I couldn't eat and turn them into delicious, healthy meals. And while I may not have mastered AIP-friendly baking (I don't think it's a good idea to eat that much coconut or cassava flour, anyway),  I am quite proud of a lot of the dishes I've been able to whip up. The nice thing about cooking is that the recipes aren't written in stone–they don't have to be followed to the letter or else. Sure, changing something will make the recipe taste different, and if you change too much, it might taste terrible or just be "missing something". But more often than not, you're sure to find that a little trial-and-error can reap big rewards. It's how I've come up with all of the recipes you can find here and in my books, and I'm no culinary genius (trust me!). To help you get started adapting all of your favorite recipes, in addition to my tips for subbing non-Paleo ingredients, here are some of the tricks I've learned for subbing non-AIP ingredients:
Meats and Seafood
Traditional applications: Meats and seafood are a staple for protein, omega-3 fats, and essential vitamins and minerals.
How to sub it: Use any kind of meat or seafood you aren't sensitive to. If you are sensitive to all seafood, increase your intake of organ meats to compensate for the missing omega-3 fats.
Nuts and Seeds
Traditional applications: Nuts and seeds might appear in Paleo snacks (granola, trail mix), baking (almond flour, hazelnut flour), butters (sunflower seed butter, almond butter), seasonings (cumin, fennel seed), milks (almond milk), and oils (walnut oil, sesame oil).
How to sub it: Use coconut flakes in granola or trail mix, pumpkin flour or plantain flour flour instead of nut- or seed-based flours, coconut butter instead of nut butters, safe seasonings like ground ginger, ground turmeric, ground cinnamon, or sea salt instead of seed-based spices, coconut milk instead of almond milk, and avocado oil or extra virgin olive oil instead of nut- or seed-based oils. Coconut flour is difficult to sub nut or seed flours with because it is much more absorbent than other flours, but you can start by using 1/4 the amount of flour called for and adding other arrowroot or tapioca starch as needed to add bulk to the recipe.
Eggs
Traditional applications: Eggs may appear in cooking (scrambled, poached) or in baking as binders.
How to sub it: For cooking, omit. For baking, use coconut oil or mashed banana (1/4 cup is about equivalent to one egg); gelatin (1 tablespoon mixed with 3 tablespoons of water is about equivalent to one egg), applesauce, plantain puree, or pumpkin puree (1/3 cup is about equivalent to one egg), or any combination thereof to replace the eggs in a recipe.
Sweeteners
Traditional applications: Sweeteners might appear in baking, beverages, and condiments.
How to sub it: Reduce the amount or omit entirely for a more AIP-friendly treat.
Peppers or Eggplant
Traditional applications: Peppers are used whole (bell peppers, jalapenos) or as seasonings (cayenne, red pepper flakes).
How to sub it: Use vegetables such as zucchini and yellow squash instead of bell peppers or eggplant and safe seasonings like ground ginger instead of spicy peppers and pepper-based seasonings.
Potatoes
Traditional applications: Potatoes are used as a side dish (mash, fries, baked).
How to sub it: Use vegetables such as cauliflower, parsnips, sweet potatoes, and beets to make mashes, fries, chips, or baked potato substitutes.
Tomatoes
Traditional applications: Whole (in salads, soups) or in sauces and condiments (tomato sauce, ketchup).
How to sub it: Use vegetables such as cucumber, carrots, celery, or zucchini in lieu of tomatoes and no-tomato sauce instead of tomato sauce, paste, or puree.
Alcohol
Traditional applications: In a drink, cooked in soups and sauces, and in extracts.
How to sub it: Omit in a drink and use broth instead in soups and sauces. If present in vanilla extract, only use that extract in recipes in which it will be heated. Otherwise, omit.
Condiments
Traditional applications: Ketchup, mustard, mayonnaise, barbecue sauce, salad dressings, relishes, chutney, horseradish, and vinegars are often used as condiments.
How to sub it: Make your own condiments using AIP-friendly ingredients like no-tomato sauce.
Need a Break From Cooking?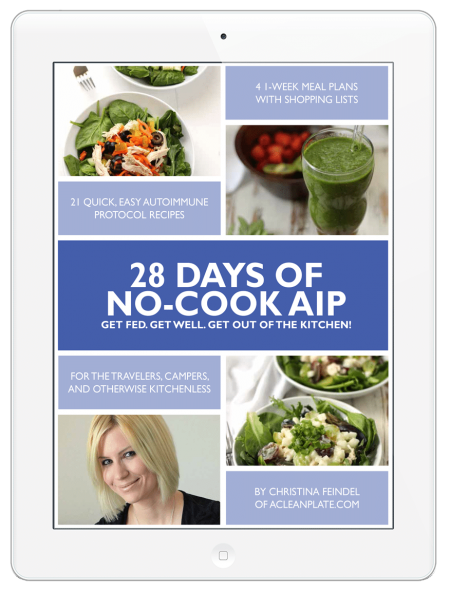 Whether you're traveling, moving, or just tired of spending so much time in the kitchen, 28 Days of No-Cook AIP can help. With four one-week meal plans designed for lazy days and/or a poorly-stocked kitchen, these simple dishes (including but not limited to salads, wraps, and smoothies) will make sticking to your autoimmune protocol diet during business trips, holiday travel, and times of illness or stress a lot easier! The e-book is now available as a digital download for $9.99.