For years, I wouldn't touch salmon. It always smelled and tasted "too fishy" for my sensitive palate, especially after a bad experience with some restaurant shrimp left me with a seafood aversion. But it's an incredibly healthy source of omega-3 fats, B vitamins, and protein and it's also one of the only types of fish that's regularly available in my area for a reasonable price. As I started experimenting with my own salmon recipes, I learned that the "fishy taste" I grew up associating with salmon had less to do with salmon and more to do with the type of salmon my mom bought and how she prepared it. Take this Maple-Glazed Salmon: Smothered in a crunchy-sweet coating of maple sugar and optionally served with a squeeze of lemon, it's a smooth, sophisticated collection of flavors that works whether your salmon is a mild Atlantic variety or a hearty sockeye. It's especially delicious served with some lemon-pepper asparagus or mashed sweet potatoes!
Struggling to Start the Autoimmune Protocol?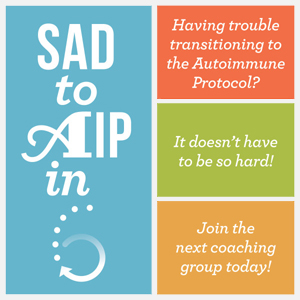 Living with chronic illness can be isolating enough without overhauling your lifestyle, often without the full support of family members who don't want their diets to change. But you don't have to go through it alone. SAD to AIP in SIX, from Nutritional Therapy Practitioner and author of The Alternative Autoimmune Cookbook Angie Alt, will coach you step-by-step through the transition from the standard American diet (SAD) to the autoimmune protocol (AIP). The six-week course includes coaching from Angie and her team, support from your peers in the program, and reference materials–it's an incredible bargain compared to private health coaching sessions. If you're struggling to make the change to the AIP or feeling isolated on your health journey, this is the program for you!
Nutrition Facts
Calories:
207
kcal
Carbohydrates:
11
g
Protein:
25
g
Fat:
7
g
Saturated Fat:
1
g
Polyunsaturated Fat:
2
g
Monounsaturated Fat:
2
g
Cholesterol:
52
mg
Sodium:
213
mg
Potassium:
535
mg
Fiber:
2
g
Sugar:
7
g
Vitamin A:
200
IU
Calcium:
40
mg
Iron:
1.1
mg
Instructions
Preheat the oven to broil. Place the salmon on a foil-lined baking sheet.

Combine the seasonings and maple sugar and pat on top of the salmon to make a thick coat.

Broil 6-9 minutes depending on how thick the salmon is cut, until the salmon is cooked through and flakes easily when scratched with a fork.

Remove from the oven and brush the maple syrup on top, then return to the oven for 1-2 more minutes, until the syrup starts to bubble.