What kinds of foods do you think of when you think of winter? Pumpkin or apple pie, probably. Stuffed turkey, glazed hams, and mashed potatoes. Cookies. Cider or mulled wine, something warm and autumnal to fight off the cold. For a lot of people, candied yams or sweet potatoes covered in brown sugar, butter, and marshmallows were always a staple. These Maple-Cinnamon Sweet Potatoes are my autoimmune protocol-friendly answer to that particular seasonal favorite! Warm, sweet, and bursting with maple and cinnamon, they're the perfect accompaniment to holiday meals and quick weeknight entrees alike. With only three ingredients and a largely hands-off cook time, they're quick, cheap, and easy, too!
Treat Your Sweet Tooth!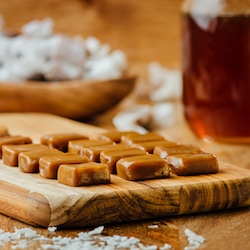 Being on a restricted diet doesn't mean you have to give up every indulgence. Temptation can be rough, and when it strikes, it's nice to have something on hand that's safe to eat. Enter Sweet Apricity. They make creamy, delicious caramels and fluffy marshmallows that just so happen to be 100% autoimmune protocol-friendly. With excellent customer service, high-quality ingredients, a subscribe and save program, and some of the most incredible sweets you'll encounter on the AIP, your sweet tooth doesn't have to go wanting. Plus, they're a great gift for anyone with food sensitivities!
Total Time:
1
hour
5
minutes
Nutrition Facts
Calories:
153
kcal
Carbohydrates:
37
g
Protein:
2
g
Fat:
0.1
g
Saturated Fat:
0.03
g
Polyunsaturated Fat:
0.03
g
Monounsaturated Fat:
0.01
g
Sodium:
73
mg
Potassium:
468
mg
Fiber:
4
g
Sugar:
14
g
Vitamin A:
369
%
Vitamin C:
5
%
Calcium:
5
%
Iron:
5
%
Instructions
Preheat oven to 400 degrees F and pierce the sweet potatoes with a fork 5-6 times each.

Place them on baking sheet lined with foil and bake until fork-tender, 45-60 minutes.

Mix the syrup and cinnamon together and serve on top of the baked potatoes.