What kinds of foods do you think of when you think of winter? Pumpkin or apple pie, probably. Stuffed turkey, glazed hams, and mashed potatoes. Cookies. Cider or mulled wine, something warm and autumnal to fight off the cold. For a lot of people, candied yams or sweet potatoes covered in brown sugar, butter, and marshmallows were always a staple. These Maple-Cinnamon Sweet Potatoes are my autoimmune protocol-friendly answer to that particular seasonal favorite! Warm, sweet, and bursting with maple and cinnamon, they're the perfect accompaniment to holiday meals and quick weeknight entrees alike. With only three ingredients and a largely hands-off cook time, they're quick, cheap, and easy, too!
Looking for AIP-Friendly Breakfast Recipes?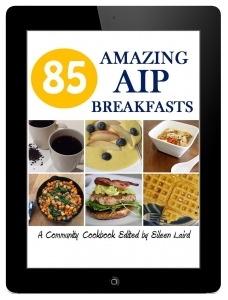 What to eat for breakfast is one of the most common questions I get from people starting the autoimmune protocol. I understand completely: With all my old staples off the table, breakfast was my biggest challenge, too. Well, now there's an easy answer. 85 Amazing AIP Breakfasts is a community e-cookbook featuring dozens of breakfast-friendly autoimmune protocol recipes from some of your favorite bloggers. With coffee substitutes, comforting teas, sausage, waffles, stir-fries, soups, hash, muffins, and porridge, 85 Amazing AIP Breakfasts has just about every one of your breakfast needs covered, sweet and savory alike. Many of the recipes can even be adapted for a low-FODMAP diet! The e-cookbook is available on editor Eileen Laird's website.
Total Time:
1
hour
5
minutes
Nutrition Facts
Calories:
153
kcal
Carbohydrates:
37
g
Protein:
2
g
Fat:
0.1
g
Saturated Fat:
0.03
g
Polyunsaturated Fat:
0.03
g
Monounsaturated Fat:
0.01
g
Sodium:
73
mg
Potassium:
468
mg
Fiber:
4
g
Sugar:
14
g
Vitamin A:
18450
IU
Vitamin C:
4.1
mg
Calcium:
50
mg
Iron:
0.9
mg
Instructions
Preheat oven to 400 degrees F and pierce the sweet potatoes with a fork 5-6 times each.

Place them on baking sheet lined with foil and bake until fork-tender, 45-60 minutes.

Mix the syrup and cinnamon together and serve on top of the baked potatoes.