Move over, Jello. This is the real deal. You can make this with tea or juice, but I prefer tea because it has less sugar in it.
Looking for Low-Histamine Recipes?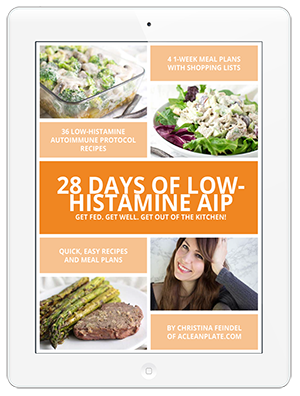 A low-histamine diet can be immensely helpful for MAST cell disorders or people with excess histamine production, but it's an extremely tricky diet to manage. My e-book 28 Days of Low-Histamine AIP combines low-histamine foods with the anti-inflammatory autoimmune protocol diet in a 28-day meal plan designed to jump start and simplify your diet change. The meal plan includes 36 simple, satisfying low-histamine recipes including a variety of dishes like Chicken Schawarma, Cabbage Roll Stir-Fry, and Chimichurri Steaks. You'll be amazed at all the flavors still available to you! The ebook is available as a digital download for $9.99.
Nutrition Facts
Calories:
24
kcal
Protein:
6
g
Fat:
0.01
g
Saturated Fat:
0.01
g
Polyunsaturated Fat:
0.001
g
Monounsaturated Fat:
0.004
g
Sodium:
15
mg
Potassium:
1
mg
Instructions
Pour the gelatin over the 1 cup cold liquid in a small saucepan and let stand 1 minute.

Add the boiling liquid, stirring until completely dissolved.

Pour into a 9x13" baking dish and refrigerate until set, about 3 hours.