These Cranberry-Glazed Chicken Thighs are absolutely gorgeous, am I right? The combination of cranberries and poultry makes for a simple, delicious dish that feels classier than it is. With a bit of mint thrown in, this glaze provides not only a riot of flavors but a beautiful color scheme to dress up these inexpensive cuts of chicken. You can make this with breast if you prefer or even use it to glaze wings, though cooking times will vary depending on how big your cuts are. This has become one of my all-time favorite poultry recipes because it's so easy to throw together. You can even make the glaze ahead of time if you want and it's very forgiving if you want to swap in some other kind of herb to round out the flavor (I often use rosemary, because I usually have too much of that lying around). Heck, you can even use your favorite jam instead of the cranberry sauce! Serve these Cranberry-Glazed Chicken Thighs alongside some simple greens and mashed sweet potatoes for a well-rounded meal, or use leftovers to top off a salad. They're good hot or cold!
Keep it Simple with Freezer Cooking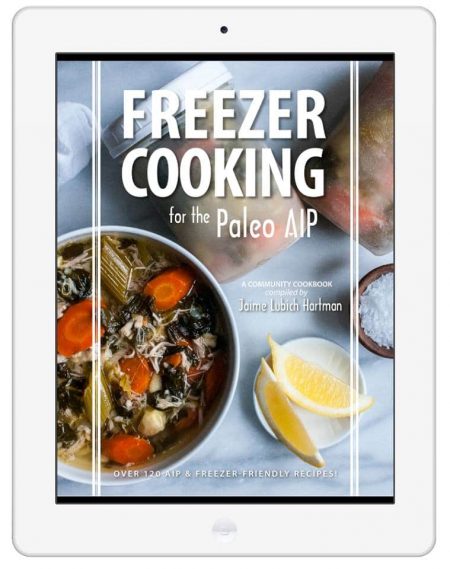 Preparing meals ahead of time and keeping them on hand in the freezer is one of the best ways to make any diet change sustainable. You'll wind up spending less time in the kitchen most days and will always have something ready to go when hunger or cravings strike. With Freezer Cooking for the Paleo AIP, you'll get 123 tried-and-true recipes from 30 of your favorite autoimmune protocol bloggers to help you out. Designed for batch cooking and advance prep, each recipe includes instructions for storing, freezing, and reheating it. There are recipes for every meal of the day and recipes for special occasions, too! The ebook is now available as a digital download for $18.90.
Nutrition Facts
Calories:
365
kcal
Carbohydrates:
15
g
Protein:
34
g
Fat:
18
g
Saturated Fat:
11
g
Polyunsaturated Fat:
2
g
Monounsaturated Fat:
4
g
Cholesterol:
96
mg
Sodium:
815
mg
Potassium:
341
mg
Fiber:
1
g
Sugar:
13
g
Vitamin A:
11
%
Vitamin C:
3
%
Calcium:
1
%
Iron:
15
%
Instructions
For the glaze, heat the coconut oil in a saucepan over medium-high heat and cook the shallot until translucent.

Reduce the heat to medium-low and add the remaining glaze ingredients. Stir until well-mixed, then set aside.

For the chicken, rub the chicken with the coconut oil until coated and heat the excess coconut oil in an oven-friendly skillet over medium heat.

Cook the chicken for about 15 minutes per side, depending on how thick and fatty your cuts are. All the fat should be cooked off, the flesh should start to turn golden-brown, and the chicken should be cooked through.

Brush with glaze before serving.