These grain-free pancakes were inspired by a gluten-free favorite of mine often served up at Austin's Kerbey Lane Cafe. They really do have the best gluten-free pancakes. Dense but fluffy, in a huge variety of flavors, with some amazing toppings. But I can't indulge in those every time a craving hits. I mean, they're gluten-free, but they're probably made with rice and potato flours, xanthan gum, guar gum… who knows what else. Not exactly a happy meal for a touchy tummy. So I turned to my favorite baking ingredient, the plantain, for a healthier homemade version. Of course, for an extra decadent treat, mix a bit of espresso with some powdered sugar to make a glaze for these puppies, just the way Kerbey Lane does it. Don't have espresso on hand? Use vanilla extract instead.
Struggling to Start the Autoimmune Protocol?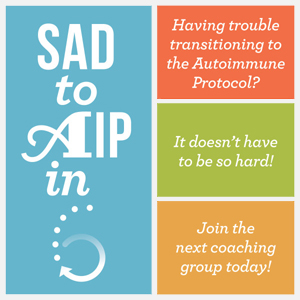 Living with chronic illness can be isolating enough without overhauling your lifestyle, often without the full support of family members who don't want their diets to change. But you don't have to go through it alone. SAD to AIP in SIX, from Nutritional Therapy Practitioner and author of The Alternative Autoimmune Cookbook Angie Alt, will coach you step-by-step through the transition from the standard American diet (SAD) to the autoimmune protocol (AIP). The six-week course includes coaching from Angie and her team, support from your peers in the program, and reference materials–it's an incredible bargain compared to private health coaching sessions. If you're struggling to make the change to the AIP or feeling isolated on your health journey, this is the program for you!
Instructions
Combine all ingredients except the chocolate chips in a high-speed blender and process until smooth.

Stir in the chocolate chips.

Heat some oil on a skillet or griddle over medium-high heat and pour out about 1/4 cup of the batter for each pancake.

Cook until firm and golden-brown on bottom, about seven minutes.

Flip and cook the other side, about five minutes.

Repeat as needed until all the batter is gone.

Serve hot with some butter, maple syrup, sliced fruit, or other topping of choice.