Do you miss fries? I'll answer that: Who doesn't? I know it's hard to substitute that crisp, starchy texture, but a lot of veggies can come close in savory, salty flavor. Celeriac (a.k.a. celery root) is one of my favorite potato substitutes. If you can't find it at your usual grocery store, you may have to look at specialty stores like Whole Foods or a local farmer's market–and you're more likely to find it there when it's in season during fall/winter.
Don't Feel Like Cooking?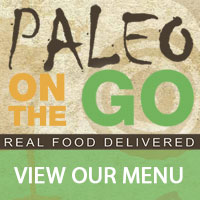 That's okay! Everyone needs a break sometimes, especially during busy times like the holidays or when you're sick or stressed out. When I find myself unwilling or unable to prepare healthy meals myself, I turn to Paleo on the Go. Yes, they have autoimmune protocol-friendly options! With tons of nutritious, delicious, pre-packaged meals, Paleo on the Go's ready-to-go, frozen courses are perfect for those days you just don't want to be in the kitchen. They even offer an appreciable selection of AIP-friendly treats, including toaster pastries!
Nutrition Facts
Calories:
87
kcal
Carbohydrates:
11
g
Protein:
2
g
Fat:
4
g
Saturated Fat:
4
g
Polyunsaturated Fat:
0.3
g
Monounsaturated Fat:
0.3
g
Sodium:
364
mg
Potassium:
375
mg
Fiber:
2
g
Sugar:
2
g
Vitamin C:
17
%
Calcium:
6
%
Iron:
5
%
Instructions
Preheat the oven to 400F.

Chop the celeriac into fry shapes.

Toss with oil and salt, then spread out on a greased or lined baking sheet.

Bake 40-45 minutes or until golden brown, flipping the fries over halfway through.