This Very Berry Fruit Salad is one of my favorite summer snacks. With a good mix of tart and sweet from apples, raspberries, blackberries, and strawberries, it's both satisfying and healthy and also makes for a good way to use up any leftover berries you might have on hand. (I know I'm guilty of buying a few too many when I find a good sale!) Feel free to swap in cherries, blueberries, or even bananas or oranges. Fruit salads are one of the most versatile dishes out there–you can't go wrong! They also make a great basis for a smoothie. Throw this in a blender with your liquid of choice and a few handfuls of greens if you need to eat on the go!
Looking for AIP-Friendly Breakfast Recipes?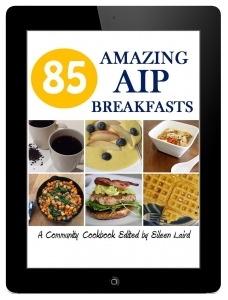 What to eat for breakfast is one of the most common questions I get from people starting the autoimmune protocol. I understand completely: With all my old staples off the table, breakfast was my biggest challenge, too. Well, now there's an easy answer. 85 Amazing AIP Breakfasts is a community e-cookbook featuring dozens of breakfast-friendly autoimmune protocol recipes from some of your favorite bloggers. With coffee substitutes, comforting teas, sausage, waffles, stir-fries, soups, hash, muffins, and porridge, 85 Amazing AIP Breakfasts has just about every one of your breakfast needs covered, sweet and savory alike. Many of the recipes can even be adapted for a low-FODMAP diet! The e-cookbook is available on editor Eileen Laird's website.
Ingredients
1/4

cup

red apple

(chopped)

1/4

cup

raspberries

1/4

cup

blackberries

4

teaspoons

strawberry jam

(or puree)
Equipment
Nutrition Facts
Calories:
34
kcal
Carbohydrates:
8
g
Protein:
0.4
g
Fat:
0.2
g
Saturated Fat:
0.01
g
Polyunsaturated Fat:
0.1
g
Monounsaturated Fat:
0.02
g
Sodium:
0.3
mg
Potassium:
62
mg
Fiber:
2
g
Sugar:
6
g
Vitamin A:
50
IU
Vitamin C:
10.7
mg
Calcium:
10
mg
Iron:
0.2
mg
Instructions
Combine all ingredients in a large bowl and refrigerate until chilled and ready to serve.