This Avocado Radish Salad makes for a crisp, flavorful side dish or vegetarian entree with beautiful pops of color from the radish and a luscious creaminess from the avocado. It pairs well with chicken, fish, or beef and also travels well for lunch if the avocado and dressing are kept in the same container, but separate from the rest of the salad. (The citrus in the dressing will keep the avocado from browning before your lunch break.) I love using this to get rid of leftover greens or radishes from other recipes and the tangy dressing has quickly become a household favorite!
Looking for AIP-Friendly Breakfast Recipes?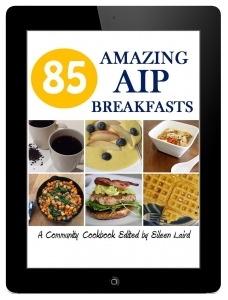 What to eat for breakfast is one of the most common questions I get from people starting the autoimmune protocol. I understand completely: With all my old staples off the table, breakfast was my biggest challenge, too. Well, now there's an easy answer. 85 Amazing AIP Breakfasts is a community e-cookbook featuring dozens of breakfast-friendly autoimmune protocol recipes from some of your favorite bloggers. With coffee substitutes, comforting teas, sausage, waffles, stir-fries, soups, hash, muffins, and porridge, 85 Amazing AIP Breakfasts has just about every one of your breakfast needs covered, sweet and savory alike. Many of the recipes can even be adapted for a low-FODMAP diet! The e-cookbook is available on editor Eileen Laird's website.
Nutrition Facts
Calories:
502
kcal
Carbohydrates:
26
g
Protein:
7
g
Fat:
45
g
Saturated Fat:
6
g
Polyunsaturated Fat:
5
g
Monounsaturated Fat:
32
g
Sodium:
326
mg
Potassium:
1432
mg
Fiber:
12
g
Sugar:
9
g
Vitamin A:
13350
IU
Vitamin C:
121.3
mg
Calcium:
160
mg
Iron:
4.1
mg
Instructions
Combine one avocado with the green onion, orange juice, olive oil, lime juice, cilantro, salt, ginger, and pepper in a blender and process until smooth.

Mix the greens and radishes and remaining avocado in a large bowl. Top with dressing to taste and serve chilled.