Do you have a hard time keeping track of more than one thing at a time in the kitchen? I know I do. If I try to make a protein with more than one side, something's going to wind up burned.
Or maybe you're intimidated by how much cooking a healthy diet involves. You feel like you're spending every free moment in the kitchen and if temptation strikes before you have food available, you're likely to just order out. Even if it means a "food hangover" the next day.
I have one trick I use simplify things and keep myself on track. And it's batch cooking!
Don't know how? No problem.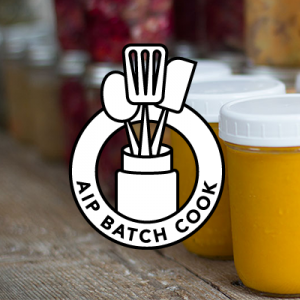 AIP Batch Cook from Nutritional Therapy Practitioner Mickey Trescott walks you through planning and cooking all of your meals for one full week. It is designed to feed one person (but can be multiplied to feed more) and includes step-by-step video tutorials as well as beautifully-designed downloadable meal plans, grocery lists, and recipes.
In just 3 1/2 hours, Mickey walks you through preparing meals for the week with dishes like chicken soup, roasted root vegetables, and ginger-lemon salmon. In addition to food prep, cooking, and storage tips, you'll also get health and nutrition tips like the benefits of seafood, how to source high-quality protein, and how to multitask in the kitchen. With Mickey's calm demeanor, helpful tips, and the fact that you're cooking along with her at the same time, batch cooking becomes easy!
In addition to the batch cooking session, Mickey has included helpful videos and recipes for making your own AIP staples like bone broth, lard, and kombucha. But if you're short on the time or energy, the downloadable PDF also includes resources for buying bone broth, cooking fats, canned fish, and snacks ready-to-go.
If you've been feeling overwhelmed by all the cooking, trying to figure out what to eat, or finding the time and energy to prepare meals when you need them, AIP Batch Cook is an excellent resource to teach you how to plan ahead and set yourself up for success!
Plus, here are another 15 AIP Batch Cooking Ideas!
All of these recipes can be made in bulk and safely frozen and reheated. Just let them cool to room temperature after cooking, place in storage containers (Mickey has lots of suggestions in AIP Batch Cook), then reheat on the stove, in the oven, or in the microwave until heated through.