To me, nothing says spring like floral flavors. The weather's getting warmer, things are at least starting to bloom, it's finally comfortable to sit outside again (when it's not raining, anyway)…. It's a time that begs for simple, refreshing flavors. Me, I'm a beverage addict. I struggle to drink plain old water unless I'm actually parched (in which case, there's nothing better in the world). So I experiment with a huge variety of teas, kefirs, coffee substitutes, and other tasty drinks. My latest kick is hibiscus. The flavor is unique and the color is absolutely gorgeous. In this Strawberry Hibiscus Iced Tea, hibiscus meets its perfect match with tart strawberries, invigorating mint, and just a tad of honey (you can use more or less to taste, of course). You can also use two bags each of hibiscus and mint tea (or four bags of a pre-made hibiscus-mint tea) if you can't get the dried components on their own. Serve over ice, garnish with fresh mint and sliced strawberries, and sit back and enjoy the moment. This makes a wonderful brunch drink!
Are you suffering from adrenal fatigue?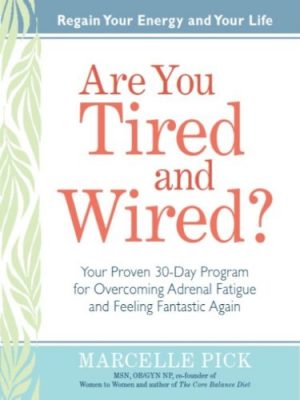 Are You Tired and Wired? is one of my favorite books on adrenal fatigue with chronic illness. It's a comprehensive yet straightforward examination of the factors at work and home that contribute to chronic adrenal dysfunction and the diet, lifestyle adjustments, and emotional reprogramming that can help fix it. A healthcare provider with a focus on women's health, Marcelle Pick will help you identify what type of adrenal dysfunction you suffer from and provide an easy-to-follow, science-based program to help you restore balance to your life. I found it extremely helpful with my own chronic fatigue!
Total Time:
1
hour
5
minutes
Nutrition Facts
Calories:
16
kcal
Carbohydrates:
4
g
Protein:
0.2
g
Fat:
0.1
g
Saturated Fat:
0.004
g
Polyunsaturated Fat:
0.04
g
Monounsaturated Fat:
0.01
g
Sodium:
3
mg
Potassium:
49
mg
Fiber:
1
g
Sugar:
3
g
Vitamin A:
1
IU
Vitamin C:
25.6
mg
Calcium:
4
mg
Iron:
0.2
mg
Instructions
Bring the water to a boil and combine the mint and hibiscus in a tea ball.

In a large pitcher or tea pot, pour the water over the tea ball and steep for 15 minutes.

Remove the tea ball and discard its contents. Allow the tea to cool to room temperature, then chill in the fridge for at least 30 minutes.

Transfer 1 cup of the tea to a blender and add the strawberries, lemon juice, and honey. Puree until smooth, then stir back into the tea. Serve over ice.