Italian Baked Eggs are traditionally made with a lot of marinara sauce and Parmesan cheese. If that sounds like the tastiest thing on the planet, I don't blame you. But wait 'til you try this much healthier adaptation packed with veggies, fresh herbs, and my nightshade-free nomato sauce!
Treat Your Sweet Tooth!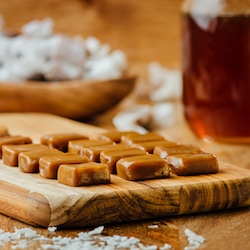 Being on a restricted diet doesn't mean you have to give up every indulgence. Temptation can be rough, and when it strikes, it's nice to have something on hand that's safe to eat. Enter Sweet Apricity. They make creamy, delicious caramels and fluffy marshmallows that just so happen to be 100% autoimmune protocol-friendly. With excellent customer service, high-quality ingredients, a subscribe and save program, and some of the most incredible sweets you'll encounter on the AIP, your sweet tooth doesn't have to go wanting. Plus, they're a great gift for anyone with food sensitivities!
Nutrition Facts
Calories:
203
kcal
Carbohydrates:
7
g
Protein:
14
g
Fat:
14
g
Saturated Fat:
5
g
Polyunsaturated Fat:
2
g
Monounsaturated Fat:
5
g
Cholesterol:
202
mg
Sodium:
700
mg
Potassium:
668
mg
Fiber:
2
g
Sugar:
2
g
Vitamin A:
122
%
Vitamin C:
47
%
Calcium:
10
%
Iron:
16
%
Instructions
Preheat the oven to 350F.

Divide the ground meat, spinach, and zucchini evenly between four ramekins.

Combine the milk, nomato sauce, oregano, salt, and pepper in a separate bowl.

Pour into the ramekins, dividing evenly, and bake for 15 minutes.

Raise the oven temperature to 400F.

Crack an egg into each ramekin and bake 12-15 minutes or until the whites are cooked through. Garnish with chives, then serve.