Seafood may be one of the healthiest proteins available thanks to its favorable omega-3-to-omega-6 ratio, but it can be a tough sell if you're not already accustomed to eating it. This simple Roasted Garlic and Herb Cod was actually the first seafood recipe I tried after giving up vegetarianism for the autoimmune protocol, and it couldn't have been easier to prepare. Mix your spices. Rub down the fish. Bake. You've got the perfect protein for your meal in 20 minutes flat with hardly any work at all. This recipe can be made with any type of whitefish. I choose cod for its relatively neutral flavor, but the spice blend also works well with catfish, tilapia… you name it. What's not to love?
The spice mix has a touch of heat from the ginger and garlic, but is mostly a super-savory blend that's more "spice-heavy" than "spicy-hot". Feel free to adjust how much of the blend you actually put on the fish. I like to use all of it because I'm not particularly fond of the taste of fish, while my husband wishes I'd use less. You can also adjust how much lemon juice you top your fish with to help offset any "fishy" taste.
Looking for AIP-Friendly Breakfast Recipes?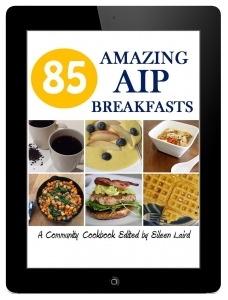 What to eat for breakfast is one of the most common questions I get from people starting the autoimmune protocol. I understand completely: With all my old staples off the table, breakfast was my biggest challenge, too. Well, now there's an easy answer. 85 Amazing AIP Breakfasts is a community e-cookbook featuring dozens of breakfast-friendly autoimmune protocol recipes from some of your favorite bloggers. With coffee substitutes, comforting teas, sausage, waffles, stir-fries, soups, hash, muffins, and porridge, 85 Amazing AIP Breakfasts has just about every one of your breakfast needs covered, sweet and savory alike. Many of the recipes can even be adapted for a low-FODMAP diet! The e-cookbook is available on editor Eileen Laird's website.
Nutrition Facts
Calories:
203
kcal
Carbohydrates:
6
g
Protein:
25
g
Fat:
8
g
Saturated Fat:
4
g
Polyunsaturated Fat:
2
g
Monounsaturated Fat:
2
g
Cholesterol:
48
mg
Sodium:
952
mg
Potassium:
757
mg
Fiber:
2
g
Sugar:
1
g
Vitamin A:
900
IU
Vitamin C:
21.5
mg
Calcium:
40
mg
Iron:
5.2
mg
Instructions
Preheat the oven to 450 degrees F.

Combine all ingredients except the fish and lemon.

Rub the fish with the spices, then place on a lightly-oiled baking sheet.

Bake for 7 minutes, then turn over and bake another 7 minutes or until the fish flakes easily when scraped with a fork.

Drizzle with lemon to serve.