I think most of us have a less-than-ideal relationship with Brussels sprouts. They're one of the most nutritious vegetables you can find in the grocery store, and yet most people hate them. The strong, bitter flavor can be incredibly off-putting, but they're such a great source of antioxidants and anti-cancer compounds that we should all be making an effort to include them in our diet. Over the years, I've tried a lot of different preparations to help my household embrace them as at least an occasional side dish. And most of them weren't successful… until I stumbled upon this Roasted Brussels Sprouts Salad. With a creamy, crunchy, bacony dressing and bursts of sweetness from raisins (from red or green grapes, your pick), there's so much awesome going on you might not even notice the Brussels sprouts. Of course, cooking them in a way designed to reduce their bitterness helps, too. This has become one of our favorite salad recipes!
Looking for Low-Histamine Recipes?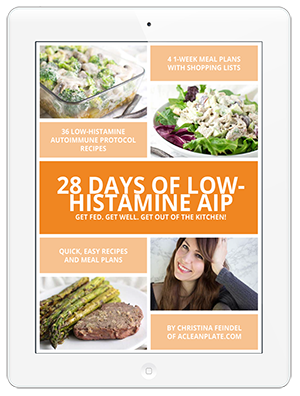 A low-histamine diet can be immensely helpful for MAST cell disorders or people with excess histamine production, but it's an extremely tricky diet to manage. My e-book 28 Days of Low-Histamine AIP combines low-histamine foods with the anti-inflammatory autoimmune protocol diet in a 28-day meal plan designed to jump start and simplify your diet change. The meal plan includes 36 simple, satisfying low-histamine recipes including a variety of dishes like Chicken Schawarma, Cabbage Roll Stir-Fry, and Chimichurri Steaks. You'll be amazed at all the flavors still available to you! The ebook is available as a digital download for $9.99.
Nutrition Facts
Calories:
162
kcal
Carbohydrates:
12
g
Protein:
9
g
Fat:
10
g
Saturated Fat:
6
g
Polyunsaturated Fat:
1
g
Monounsaturated Fat:
2
g
Cholesterol:
14
mg
Sodium:
426
mg
Potassium:
515
mg
Fiber:
4
g
Sugar:
3
g
Vitamin A:
850
IU
Vitamin C:
133.7
mg
Calcium:
50
mg
Iron:
2
mg
Instructions
Preheat the oven to 400 degrees F.

Combine the brussels sprouts, bacon grease, salt, and pepper, then arrange on a baking sheet in a single layer. Bake 15 minutes or until beginning to turn crisp and golden-brown.

Toss with coconut cream, garlic, bacon crumbs, and raisins to serve.