This. Is. Delicious. I added the cheese to Noah's half and left it out of mine, but we both thoroughly enjoyed the meal. Feel free to adjust the seasonings to taste; Noah liked his with a little more ginger and pepper and I could've used a little less, myself. If you don't feel like making the paneer yourself, you can either buy some from your local Indian market(s) or leave it out entirely and throw in some pre-cooked chicken cubes instead.
Keep it Simple with Freezer Cooking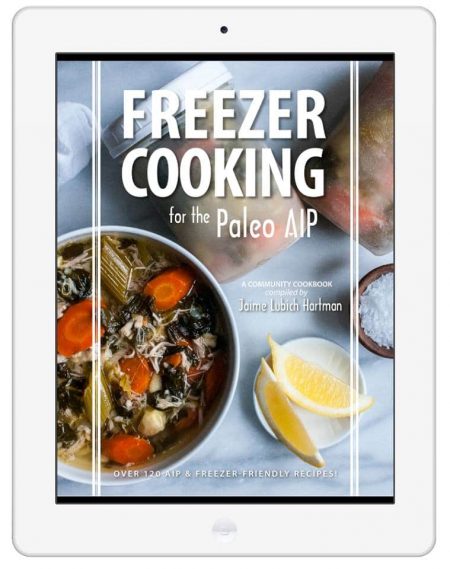 Preparing meals ahead of time and keeping them on hand in the freezer is one of the best ways to make any diet change sustainable. You'll wind up spending less time in the kitchen most days and will always have something ready to go when hunger or cravings strike. With Freezer Cooking for the Paleo AIP, you'll get 123 tried-and-true recipes from 30 of your favorite autoimmune protocol bloggers to help you out. Designed for batch cooking and advance prep, each recipe includes instructions for storing, freezing, and reheating it. There are recipes for every meal of the day and recipes for special occasions, too! The ebook is now available as a digital download for $18.90.
Nutrition Facts
Calories:
187
kcal
Carbohydrates:
11
g
Protein:
11
g
Fat:
12
g
Saturated Fat:
9
g
Polyunsaturated Fat:
0.2
g
Monounsaturated Fat:
0.1
g
Cholesterol:
35
mg
Sodium:
59
mg
Potassium:
385
mg
Fiber:
3
g
Sugar:
5
g
Vitamin A:
162
%
Vitamin C:
26
%
Calcium:
37
%
Iron:
15
%
Instructions
Palak Paneer
Combine 3 tablespoons of coconut oil with the turmeric, cayenne, and salt. Gently toss in the paneer cubes, careful not to break them, and then marinate in the fridge for at least 30 minutes.

Heat a large skillet over medium heat and cook the paneer until browned on each side, tossing every couple of minutes, then remove from the pan.

Add the remaining tablespoon of oil to the pan and cook the onions, garlic, and ginger until caramelized, about 15 minutes. If it starts to burn or dry out, add a tablespoon or two of water.

Add the garam masala, coriander, and cumin and cook, stirring, 3 minutes.

Add the spinach and water and cook another 5 minutes.

Remove from the heat and stir in the yogurt and then add the paneer. Cover the pan and return it to the heat to warm through, about 5 more minutes.
Paneer
Place two layers of cheesecloth in a large strainer or colander and set it in the sink.

Bring the milk to a low boil in a large saucepan over medium heat, stirring constantly.

Add the lemon juice and reduce the heat to low, continuing to stir. The milk will start to separate into curds and whey. If it doesn't, return the heat to medium, add more lemon juice, and keep stirring gently.

Pour the milk into the cheesecloth and rinse with cool water. Gather the ends of the cheesecloth and twist them together so your cheese forms a ball and the excess liquid is squeezed out. Let it drain for 5 minutes.

To make a block, place the ball of cheese (still in the cheesecloth) on its side between two plates. Place some heavy items like canned goods on top and let sit in the fridge for 20 minutes.