Doesn't every summer feel worse than the one before? When I first moved to Austin after college, I couldn't afford to run the AC all the time and would spend most of my time in my apartment sweating and miserable in temperatures upwards of 98 degrees. So there's just no way this summer is worse than that one. But it sure is hitting me hard all the same. I'm constantly thirsty and I haven't craved cold sweets this badly since my last breakup. Heck, I never even liked Coke, but there are days a Coke is awfully tempting. So it was inevitable I find a way to make something equally bubbly and refreshing… like this Orange Cream Soda… without all those nasty additives.
There are a lot of resources out there for making your own homemade sodas these days. Sure, you can buy a soda stream or similar product, but at its core, soda is just carbonated water with sugar and flavoring. That's easy to do at home! This recipe uses a rich vanilla syrup (which is also great in lattes) for a flavor that's reminiscent of cream soda (my personal favorite soda, by the way–couldn't get enough of that stuff as a kid). Add orange juice and you've got the perfect summer refreshment for the whole family! But that's just the tip of the iceberg….
Alternatives to Orange Cream Soda
Swap the orange juice for cherry juice for cherry-vanilla soda
Swap the orange juice for lemon juice for sparkling lemonade
Swap the orange juice for herbal teas like hibiscus, lavender, or ginger for a unique, lower-sugar beverage
Omit the juice altogether and adjust the syrup and sparkling water to taste for a good old-fashioned Cream Soda
Add a tablespoon or two of cocoa powder to the syrup and swap the juice for milk (or just make my Chocolate Soda recipe)
You may need to adjust the ratio of juice to sparkling water and add the syrup to taste for these variations, but I promise they'll all be delicious!
Are you suffering from adrenal fatigue?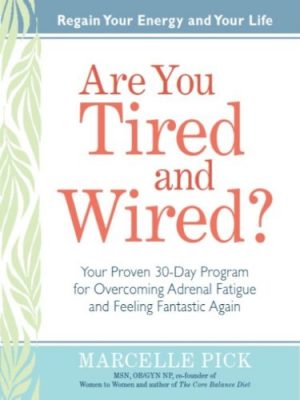 Are You Tired and Wired? is one of my favorite books on adrenal fatigue with chronic illness. It's a comprehensive yet straightforward examination of the factors at work and home that contribute to chronic adrenal dysfunction and the diet, lifestyle adjustments, and emotional reprogramming that can help fix it. A healthcare provider with a focus on women's health, Marcelle Pick will help you identify what type of adrenal dysfunction you suffer from and provide an easy-to-follow, science-based program to help you restore balance to your life. I found it extremely helpful with my own chronic fatigue!
Nutrition Facts
Calories:
129
kcal
Carbohydrates:
32
g
Protein:
1
g
Fat:
0.2
g
Saturated Fat:
0.03
g
Polyunsaturated Fat:
0.1
g
Monounsaturated Fat:
0.04
g
Sodium:
9
mg
Potassium:
226
mg
Fiber:
0.2
g
Sugar:
29
g
Vitamin A:
200
IU
Vitamin C:
64.4
mg
Calcium:
20
mg
Iron:
0.4
mg
Instructions
Combine the water, maple syrup, honey, and vanilla in a small saucepan over medium heat and stir constantly 2-3 minutes, until well-mixed and somewhat thickened.

Remove from heat and chill thoroughly.

Divide the orange juice and sparkling water evenly between four ice-filled 8-ounce glasses, add syrup to taste, and stir well before serving.