I watched Russ Crandall demo his Finnish Nakkikastike recipe at Paleo F(x) last year and have been making it ever since. It's a simple, fun recipe that is equally fun to say. Nakkikastike. Nakkikastike. While traditionally served with chopped-up hotdogs over chopped potatoes, I decided to use the potatoes as buns for a more American-style hotdog dish. It's delightfully messy, so bring plenty of napkins! You can use sausage or even chopped chicken if you prefer.
Struggling to Start the Autoimmune Protocol?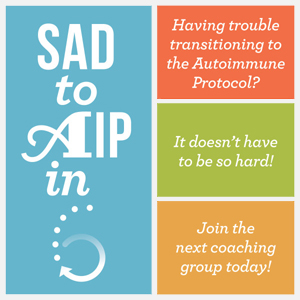 Living with chronic illness can be isolating enough without overhauling your lifestyle, often without the full support of family members who don't want their diets to change. But you don't have to go through it alone. SAD to AIP in SIX, from Nutritional Therapy Practitioner and author of The Alternative Autoimmune Cookbook Angie Alt, will coach you step-by-step through the transition from the standard American diet (SAD) to the autoimmune protocol (AIP). The six-week course includes coaching from Angie and her team, support from your peers in the program, and reference materials–it's an incredible bargain compared to private health coaching sessions. If you're struggling to make the change to the AIP or feeling isolated on your health journey, this is the program for you!
Nutrition Facts
Calories:
179
kcal
Carbohydrates:
24
g
Protein:
4
g
Fat:
8
g
Saturated Fat:
7
g
Polyunsaturated Fat:
0.4
g
Monounsaturated Fat:
1
g
Sodium:
728
mg
Potassium:
578
mg
Fiber:
3
g
Sugar:
2
g
Vitamin A:
2600
IU
Vitamin C:
33
mg
Calcium:
30
mg
Iron:
1.3
mg
Instructions
Preheat the oven to 450F.

Cut each baked potato (yep, you are going to cook already-cooked potatoes) in half hotdog-style and scoop out just a little bit of the flesh from the middle of each half (save the flesh).

Brush each potato with a bit of oil all around, then sprinkle with salt and bake on a parchment-lined baking sheet cut-side down for 20 minutes or until the skins are crispy.

Meanwhile, heat the oil in a skillet over medium-high heat and cook the hot dogs completely. Remove from skillet.

Lower the heat to medium and add more oil if needed. Cook the onion and carrot until soft, then add the remaining ingredients except potatoes.

Reduce the heat to low and cook, covered, for 20 minutes.

Transfer the sauce to a blender (along with that potato flesh you saved earlier) and blend until smooth.

Place the hotdogs inside a potato "bun" and serve the sauce on top of the hotdogs.