I watched Russ Crandall demo his Finnish Nakkikastike recipe at Paleo F(x) last year and have been making it ever since. It's a simple, fun recipe that is equally fun to say. Nakkikastike. Nakkikastike. While traditionally served with chopped-up hotdogs over chopped potatoes, I decided to use the potatoes as buns for a more American-style hotdog dish. It's delightfully messy, so bring plenty of napkins! You can use sausage or even chopped chicken if you prefer.
Looking for more easy AIP recipes?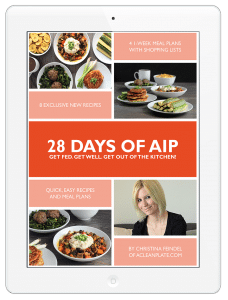 I know diet change can feel overwhelming. I started the autoimmune protocol at a time when only four other people were writing about it, and over the years, I've striven to give you the resources I wish I'd had when I got started. Not just recipes, but ways to implement them. My first ebook 28 Days of AIP is a meal plan that will help you get going (or get back on the wagon) with as little fuss as possible. With a variety of simple, delicious recipes, plenty of leftovers so you don't spend all your free time in the kitchen, and shopping lists ready to go, all you have to do is follow the plan, then sit down and enjoy your meal! It's available as a digital download for $9.99.
Nutrition Facts
Calories:
179
kcal
Carbohydrates:
24
g
Protein:
4
g
Fat:
8
g
Saturated Fat:
7
g
Polyunsaturated Fat:
0.4
g
Monounsaturated Fat:
1
g
Sodium:
728
mg
Potassium:
578
mg
Fiber:
3
g
Sugar:
2
g
Vitamin A:
52
%
Vitamin C:
40
%
Calcium:
3
%
Iron:
7
%
Instructions
Preheat the oven to 450F.

Cut each baked potato (yep, you are going to cook already-cooked potatoes) in half hotdog-style and scoop out just a little bit of the flesh from the middle of each half (save the flesh).

Brush each potato with a bit of oil all around, then sprinkle with salt and bake on a parchment-lined baking sheet cut-side down for 20 minutes or until the skins are crispy.

Meanwhile, heat the oil in a skillet over medium-high heat and cook the hot dogs completely. Remove from skillet.

Lower the heat to medium and add more oil if needed. Cook the onion and carrot until soft, then add the remaining ingredients except potatoes.

Reduce the heat to low and cook, covered, for 20 minutes.

Transfer the sauce to a blender (along with that potato flesh you saved earlier) and blend until smooth.

Place the hotdogs inside a potato "bun" and serve the sauce on top of the hotdogs.