For our date nights, we very often go to PF Chang's to enjoy a gluten-free dinner for two. One of my favorite dishes is their Mongolian Beef, although I don't like how few vegetables come with it. This stir-fry offers the best of both worlds–delicious, spicy beef and healthy vegetables. This goes great on top of the Cauliflower Rice I posted last time! If you don't have molasses, use 1/4 cup honey instead.
Looking for Low-FODMAP Recipes?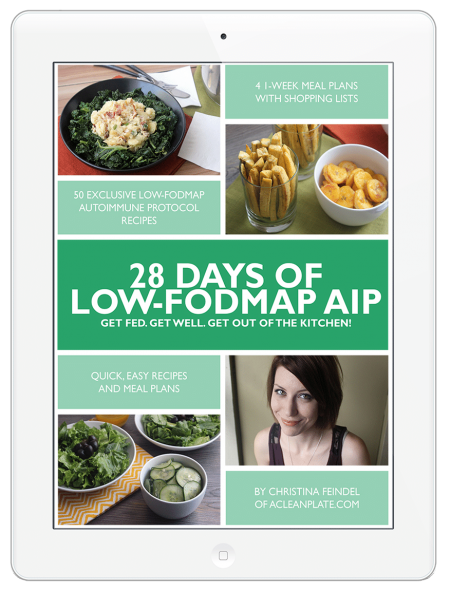 The low-FODMAP diet is often prescribed for people with IBS or Small Intestinal Bacterial Overgrowth (SIBO), and there's a huge overlap of that demographic with people with autoimmune disease. My e-book 28 Days of Low-FODMAP AIP combines both IBS- and autoimmune-friendly diets in a 28-day meal plan designed to jump start and simplify this often-challenging diet change. Just you wait: The meal plan includes 50 exclusive low-FODMAP recipes you won't find on my website or anywhere else, with dishes like Chicken Vindalo, Jambalaya, and crispy, crunchy Tostones. You'll be amazed at the variety of flavors still available to you! The ebook is available as a digital download for $9.99.
Nutrition Facts
Calories:
564
kcal
Carbohydrates:
49
g
Protein:
36
g
Fat:
25
g
Saturated Fat:
14
g
Polyunsaturated Fat:
1
g
Monounsaturated Fat:
8
g
Cholesterol:
92
mg
Sodium:
1292
mg
Potassium:
1182
mg
Fiber:
13
g
Sugar:
19
g
Vitamin A:
120
%
Vitamin C:
239
%
Calcium:
9
%
Iron:
19
%
Instructions
Heat the oil in a large skillet over medium, then cook the onion until translucent, about 3 minutes.

Add the aminos, sweetener, garlic, ginger, pepper, and salt and bring to a simmer.

Stir in the arrowroot and keep stirring until the sauce has thickened, about 4 minutes.

Add the steak and simmer until cooked through, about 10 minutes.

Add the remaining ingredients except green onions and heat through, then serve hot garnished with the green onions.