Kale chips. They might be one of the first "health foods" I ever made. You know, when I started cooking for myself instead of eating whole-grain cereals or veggie subs for every meal. If you haven't tried them yet, you've been missing out! And if you have tried them, you're probably thinking, "Geez, Christina, you're sharing a recipe for kale chips now? I already have two dozen, lovingly curated since they became a health trend six years ago!" To which I say: Fair point. I don't know how this recipe got lost in the shuffle. These Garlic Salt Kale Chips are literally the only way I've ever made kale chips and probably the only way I ever will. With just oil, salt, and optional garlic powder, it doesn't get any easier! They are the perfect antidote to the chip cravings my husband often gets, plus they're a great way to use up any leftover kale, which I seem to collect. Especially in the winter when an ice-cold kale smoothie sounds like a really terrible idea!
Keep Your Health on Track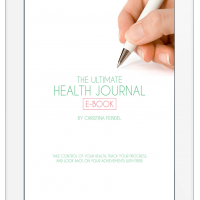 Whether you're starting the autoimmune protocol, a new medication, an exercise routine or trying to get to the bottom of your headaches or indigestion, cataloging your activities and symptoms is a great way to gauge your progress. The Ultimate Health Journal can help you stay on track with diet, fitness, and other lifestyle changes you have begun or been prescribed, notice patterns in your health and lifestyle so you can enact positive changes, and provide a valuable tool for you, your family, and your healthcare team. I would never have noticed that cinnamon makes me sneeze or dairy gives me hiccups without keeping a written record during my elimination diet, which helped me see the patterns that solved my problems! The ebook is available as a digital download with printable template for $6.99.
Nutrition Facts
Calories:
47
kcal
Carbohydrates:
6
g
Protein:
2
g
Fat:
2
g
Saturated Fat:
2
g
Polyunsaturated Fat:
0.3
g
Monounsaturated Fat:
0.2
g
Sodium:
84
mg
Potassium:
256
mg
Fiber:
1
g
Sugar:
0.1
g
Vitamin A:
174
%
Vitamin C:
114
%
Calcium:
8
%
Iron:
5
%
Instructions
Preheat the oven to 300 degrees F.

Combine all ingredients in a large bowl and toss well.

Arrange in a single layer on a parchment-lined baking sheet.

Bake 20-30 minutes or until crispy, stirring once halfway through. The leaves will turn a dark green and may brown around the edges a little.