Kale chips. They might be one of the first "health foods" I ever made. You know, when I started cooking for myself instead of eating whole-grain cereals or veggie subs for every meal. If you haven't tried them yet, you've been missing out! And if you have tried them, you're probably thinking, "Geez, Christina, you're sharing a recipe for kale chips now? I already have two dozen, lovingly curated since they became a health trend six years ago!" To which I say: Fair point. I don't know how this recipe got lost in the shuffle. These Garlic Salt Kale Chips are literally the only way I've ever made kale chips and probably the only way I ever will. With just oil, salt, and optional garlic powder, it doesn't get any easier! They are the perfect antidote to the chip cravings my husband often gets, plus they're a great way to use up any leftover kale, which I seem to collect. Especially in the winter when an ice-cold kale smoothie sounds like a really terrible idea!
Make your own non-toxic cosmetics!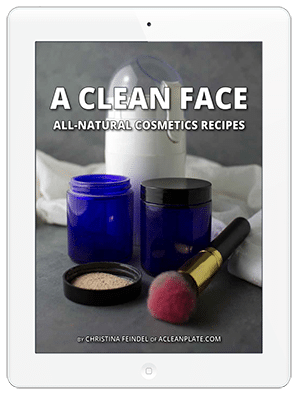 I may make my living as a food blogger, but journey toward a more health-conscious lifestyle actually began with making my own cosmetics while I was still in high school–many years before I started "clean eating". Desperate to get a handle on my sensitive skin and nose, I was also hoping for cheaper, more eco-friendly alternatives to store-bought products. If you're in the same boat, making your own cosmetics and toiletries is easier than you might think! My e-book A Clean Face will give you the tools you need to get started for just $9.99.
Nutrition Facts
Calories:
47
kcal
Carbohydrates:
6
g
Protein:
2
g
Fat:
2
g
Saturated Fat:
2
g
Polyunsaturated Fat:
0.3
g
Monounsaturated Fat:
0.2
g
Sodium:
84
mg
Potassium:
256
mg
Fiber:
1
g
Sugar:
0.1
g
Vitamin A:
8700
IU
Vitamin C:
94.1
mg
Calcium:
80
mg
Iron:
0.9
mg
Instructions
Preheat the oven to 300 degrees F.

Combine all ingredients in a large bowl and toss well.

Arrange in a single layer on a parchment-lined baking sheet.

Bake 20-30 minutes or until crispy, stirring once halfway through. The leaves will turn a dark green and may brown around the edges a little.