Is there anything more satisfying than a perfectly ripe pear? It's almost something of a feat, given how quickly they go soft. I think there's an Eddie Izzard bit about how pears are only ripe for about 30 seconds when you have your back turned. But don't worry, this can be made with under- or over-ripe pears just fine. It may or may not have originated as a way for me to soften up a pear I bit into before it was ready. With just three ingredients, these Cinnamon-Ginger Pears come together easily, offering a simple, comforting flavor that's perfect for fall and winter treats. Of course, this dish can also be made with apples in a pinch. (I prefer sweet red ones like Gala, but green apples work, too.) Serve them in a pie, on ice cream, or just straight outta the pan for a dessert that's sure to warm you up!
Keep Your Health on Track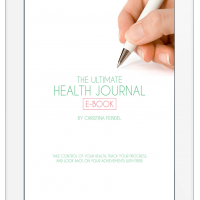 Whether you're starting the autoimmune protocol, a new medication, an exercise routine or trying to get to the bottom of your headaches or indigestion, cataloging your activities and symptoms is a great way to gauge your progress. The Ultimate Health Journal can help you stay on track with diet, fitness, and other lifestyle changes you have begun or been prescribed, notice patterns in your health and lifestyle so you can enact positive changes, and provide a valuable tool for you, your family, and your healthcare team. I would never have noticed that cinnamon makes me sneeze or dairy gives me hiccups without keeping a written record during my elimination diet, which helped me see the patterns that solved my problems! The ebook is available as a digital download with printable template for $6.99.
Nutrition Facts
Calories:
99
kcal
Carbohydrates:
27
g
Protein:
1
g
Fat:
0.2
g
Saturated Fat:
0.02
g
Polyunsaturated Fat:
0.1
g
Monounsaturated Fat:
0.05
g
Sodium:
2
mg
Potassium:
202
mg
Fiber:
6
g
Sugar:
16
g
Vitamin A:
50
IU
Vitamin C:
9.9
mg
Calcium:
20
mg
Iron:
0.4
mg
Instructions
Preheat the oven to 350F.

Layer the pears in a baking dish and add the remaining ingredients.

Bake for 30 minutes and serve hot.