If you've never used leeks before — or even if you have — one of the first preparations you'll find for them is "Potato Leek Soup". This is apparently a classic comfort food, because there are already several autoimmune protocol adaptations using anything from rutabaga to cauliflower in lieu of potatoes. Rather than attempt to reinvent it in my usual way — using sweet potato or taro root — I am sharing my adaptation of one my absolute favorite recipe from Autoimmune-Paleo making use of celeriac. The addition of ginger adds great depth to this creamy, almost cheesy-tasting comfort food. Garnish with crumbled bacon, fresh parsley, or chives if you like.
Keep your household clean, too!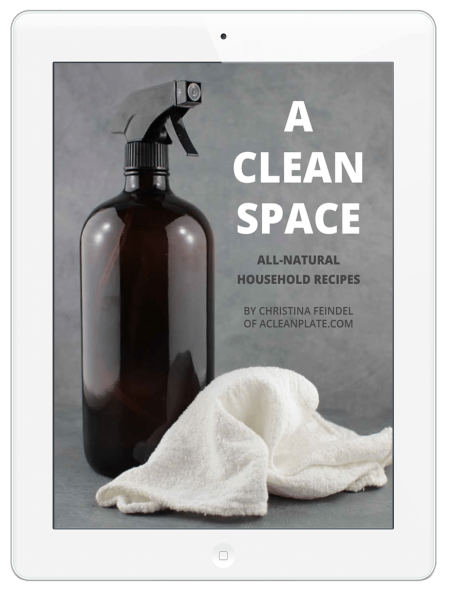 I may make my living as a food blogger, but my health-consciousness actually began long before I started cooking. Growing up with a sensitive nose and skin that would break out into a rash at the slightest provocation, I've been making my own cosmetics and cleaning products since high school. I hoped that avoiding these environmental toxins would not only improve my health, but be better for the environment and save me some money compared to buying high-end non-toxic products at a health-foods store. Whatever your reasons, making your own household products is easier than you might think. My e-book A Clean Space has all the tips, tricks, and recipes you need to get started–and it's only $6.99!
Nutrition Facts
Calories:
197
kcal
Carbohydrates:
20
g
Protein:
8
g
Fat:
10
g
Saturated Fat:
7
g
Polyunsaturated Fat:
1
g
Monounsaturated Fat:
2
g
Cholesterol:
3
mg
Sodium:
779
mg
Potassium:
666
mg
Fiber:
3
g
Sugar:
2
g
Vitamin A:
10
%
Vitamin C:
19
%
Calcium:
9
%
Instructions
Heat the fat in a pot over medium heat.

Cook the leeks until soft, about 5 minutes, stirring occasionally.

Stir in the garlic and ginger and cook another 1-2 minutes.

Add the celeriac, broth, vinegar, salt, parsley, and pepper, then bring to a boil.

Reduce heat to medium, then cover and cook 15 minutes or until the celeriac is fork-tender.

Pour the soup into a blender and process until smooth. Serve hot.