If you've never used leeks before — or even if you have — one of the first preparations you'll find for them is "Potato Leek Soup". This is apparently a classic comfort food, because there are already several autoimmune protocol adaptations using anything from rutabaga to cauliflower in lieu of potatoes. Rather than attempt to reinvent it in my usual way — using sweet potato or taro root — I am sharing my adaptation of one my absolute favorite recipe from Autoimmune-Paleo making use of celeriac. The addition of ginger adds great depth to this creamy, almost cheesy-tasting comfort food. Garnish with crumbled bacon, fresh parsley, or chives if you like.
Looking for Low-FODMAP Recipes?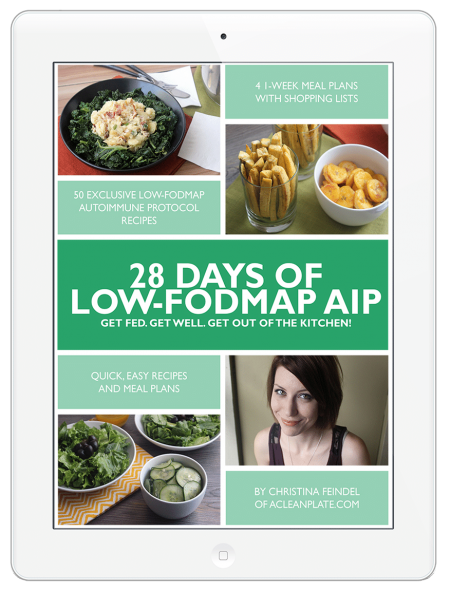 The low-FODMAP diet is often prescribed for people with IBS or Small Intestinal Bacterial Overgrowth (SIBO), and there's a huge overlap of that demographic with people with autoimmune disease. My e-book 28 Days of Low-FODMAP AIP combines both IBS- and autoimmune-friendly diets in a 28-day meal plan designed to jump start and simplify this often-challenging diet change. Just you wait: The meal plan includes 50 exclusive low-FODMAP recipes you won't find on my website or anywhere else, with dishes like Chicken Vindalo, Jambalaya, and crispy, crunchy Tostones. You'll be amazed at the variety of flavors still available to you! The ebook is available as a digital download for $9.99.
Nutrition Facts
Calories:
197
kcal
Carbohydrates:
20
g
Protein:
8
g
Fat:
10
g
Saturated Fat:
7
g
Polyunsaturated Fat:
1
g
Monounsaturated Fat:
2
g
Cholesterol:
3
mg
Sodium:
779
mg
Potassium:
666
mg
Fiber:
3
g
Sugar:
2
g
Vitamin A:
500
IU
Vitamin C:
15.7
mg
Calcium:
90
mg
Instructions
Heat the fat in a pot over medium heat.

Cook the leeks until soft, about 5 minutes, stirring occasionally.

Stir in the garlic and ginger and cook another 1-2 minutes.

Add the celeriac, broth, vinegar, salt, parsley, and pepper, then bring to a boil.

Reduce heat to medium, then cover and cook 15 minutes or until the celeriac is fork-tender.

Pour the soup into a blender and process until smooth. Serve hot.