If you've never used leeks before — or even if you have — one of the first preparations you'll find for them is "Potato Leek Soup". This is apparently a classic comfort food, because there are already several autoimmune protocol adaptations using anything from rutabaga to cauliflower in lieu of potatoes. Rather than attempt to reinvent it in my usual way — using sweet potato or taro root — I am sharing my adaptation of one my absolute favorite recipe from Autoimmune-Paleo making use of celeriac. The addition of ginger adds great depth to this creamy, almost cheesy-tasting comfort food. Garnish with crumbled bacon, fresh parsley, or chives if you like.
Struggling with thyroid disease?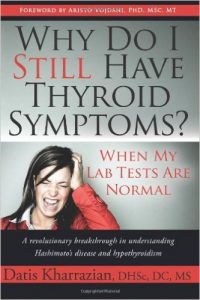 Why Do I Still Have Thyroid Symptoms? by functional medicine practitioner Datis Kharrazian is single-handedly responsible for my improved health over the past few years. It introduced me to the connection between autoimmune disease and lifestyle factors like diet at a time when my doctors were telling me there was nothing wrong with my thyroid even though I had high antibodies. This book gave me the information I needed to get the right tests ordered and seek proper treatment. It's a must-have guide for anyone who has already been diagnosed with thyroid disease, who is at risk due to family history, or who strongly suspects they may have it but isn't sure where to start. I can't recommend it enough!
Nutrition Facts
Calories:
197
kcal
Carbohydrates:
20
g
Protein:
8
g
Fat:
10
g
Saturated Fat:
7
g
Polyunsaturated Fat:
1
g
Monounsaturated Fat:
2
g
Cholesterol:
3
mg
Sodium:
779
mg
Potassium:
666
mg
Fiber:
3
g
Sugar:
2
g
Vitamin A:
500
IU
Vitamin C:
15.7
mg
Calcium:
90
mg
Instructions
Heat the fat in a pot over medium heat.

Cook the leeks until soft, about 5 minutes, stirring occasionally.

Stir in the garlic and ginger and cook another 1-2 minutes.

Add the celeriac, broth, vinegar, salt, parsley, and pepper, then bring to a boil.

Reduce heat to medium, then cover and cook 15 minutes or until the celeriac is fork-tender.

Pour the soup into a blender and process until smooth. Serve hot.