This Carrot Ketchup was born from an obvious need for a tasty, healthy ketchup substitute during my time on the autoimmune protocol. But as a lifelong ketchup-lover, I was worried that it just wouldn't be good enough. I mean, I was a ketchup addict. If I didn't quite like a dish, I could just put ketchup on it and be happy as a clam. It had been especially helpful as an aid to make organ meats more palatable. But look at this stuff! It has the same gorgeous red color of real ketchup and an unbelievably similar taste. In fact, how great this recipe turned out is what inspired me to try No-Tomato Sauce, which is still one of my most popular recipes. So if you've been missing ketchup on the AIP, too, or have to avoid nightshades for some other reason, give this stuff a try! Thanks to the vinegar, it keeps well in the fridge, but I wouldn't hang onto it for more than two weeks.
Struggling with thyroid disease?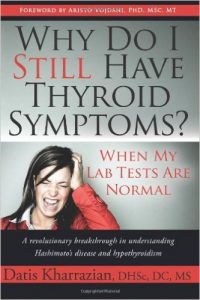 Why Do I Still Have Thyroid Symptoms? by functional medicine practitioner Datis Kharrazian is single-handedly responsible for my improved health over the past few years. It introduced me to the connection between autoimmune disease and lifestyle factors like diet at a time when my doctors were telling me there was nothing wrong with my thyroid even though I had high antibodies. This book gave me the information I needed to get the right tests ordered and seek proper treatment. It's a must-have guide for anyone who has already been diagnosed with thyroid disease, who is at risk due to family history, or who strongly suspects they may have it but isn't sure where to start. I can't recommend it enough!
Nutrition Facts
Calories:
196
kcal
Carbohydrates:
48
g
Protein:
3
g
Fat:
1
g
Saturated Fat:
0.1
g
Polyunsaturated Fat:
0.3
g
Monounsaturated Fat:
0.1
g
Sodium:
664
mg
Potassium:
906
mg
Fiber:
7
g
Sugar:
36
g
Vitamin A:
28650
IU
Vitamin C:
24.8
mg
Calcium:
70
mg
Iron:
1.4
mg
Instructions
Place a steamer basket in the bottom of a large stockpot, then add water to just below the basket.

Place the carrots and beet pieces in the basket, then bring to a boil. Reduce the heat to medium-low, cover, and simmer 10-15 minutes, until the carrots and beet are soft.

Combine all ingredients in a blender and process until smooth.

Transfer the mixture to a small saucepan and bring to a boil, then simmer at medium-low for 20 minutes.