Okay, I know I've been posting a lot of beverages this summer. But it's been a hot one. We moved into a new house, had to do a lot of repairs and yard work, and the AC has been out a few times. Any time I sit down to dream up a recipe, all I can think about is something cold, sweet, and easy to make. It's weird how the heat zaps all the energy right out of you, isn't it? Like even chewing sounds exhausting, at least until you're ravenous and/or nice and cool again. So, it's been a summer of smoothies, virgin cocktails, iced teas, and agua frescas. This Blueberry Melon Agua Fresca was born of having too much watermelon on my hands. (Which is inevitably what happens any time I buy watermelon: They're huge, and there are only two of us.) Since it doesn't keep well and there's only so much you can eat, I tend to whip it up into a variety of drinks and sorbets so we don't feel like we're eating watermelon all the damn time. With just a hint of that awesome sweetness, these Blueberry Melon Agua Frescas are rich in antioxidants and just the summer escape you're looking for.
Keep Your Health on Track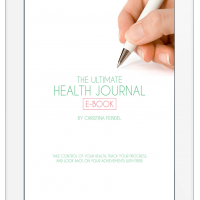 Whether you're starting the autoimmune protocol, a new medication, an exercise routine or trying to get to the bottom of your headaches or indigestion, cataloging your activities and symptoms is a great way to gauge your progress. The Ultimate Health Journal can help you stay on track with diet, fitness, and other lifestyle changes you have begun or been prescribed, notice patterns in your health and lifestyle so you can enact positive changes, and provide a valuable tool for you, your family, and your healthcare team. I would never have noticed that cinnamon makes me sneeze or dairy gives me hiccups without keeping a written record during my elimination diet, which helped me see the patterns that solved my problems! The ebook is available as a digital download with printable template for $6.99.
Nutrition Facts
Calories:
223
kcal
Carbohydrates:
56
g
Protein:
5
g
Fat:
1
g
Saturated Fat:
0.1
g
Polyunsaturated Fat:
0.4
g
Monounsaturated Fat:
0.3
g
Sodium:
18
mg
Potassium:
834
mg
Fiber:
5
g
Sugar:
43
g
Vitamin A:
86
%
Vitamin C:
108
%
Calcium:
10
%
Iron:
14
%
Instructions
Combine the watermelon, blueberries, mint, and lime juice in a blender and process until smooth. You may have to do this in batches.

Pour into a pitcher and add the sparkling water, then serve over ice.