It's the perfect time of year to be breaking out all those classic childhood desserts. Summer just screams ice cream sandwiches, Popsicles, milkshakes, birthday cake a la mode, and banana splits–and you don't have to be a kid to want to hearken to that call. Nowadays, it's pretty easy to find an autoimmune protocol-friendly version of your favorite treat. Even if they don't quite hit the spot, they're usually better than nothing… or falling off the wagon completely. But every now and then you find one that's more magical than you could have hoped. When I was struck by the idea of an AIP Banana Split Pudding, I knew the necessary use of coconut milk for the base and carob powder for the syrup would yield a very different flavor from a traditional banana split… but I was amazed at how well this little treat hit the spot! Not only are these puddings very presentable, but with only about ten minutes of actual work involved, they're as easy as dessert gets! If you like, top it with a bit of coconut Whipped Cream for a more banana split-like presentation.
Struggling with thyroid disease?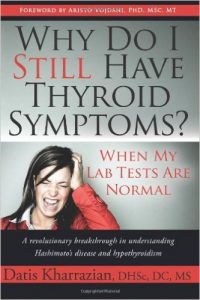 Why Do I Still Have Thyroid Symptoms? by functional medicine practitioner Datis Kharrazian is single-handedly responsible for my improved health over the past few years. It introduced me to the connection between autoimmune disease and lifestyle factors like diet at a time when my doctors were telling me there was nothing wrong with my thyroid even though I had high antibodies. This book gave me the information I needed to get the right tests ordered and seek proper treatment. It's a must-have guide for anyone who has already been diagnosed with thyroid disease, who is at risk due to family history, or who strongly suspects they may have it but isn't sure where to start. I can't recommend it enough!
Nutrition Facts
Calories:
434
kcal
Carbohydrates:
54
g
Protein:
6
g
Fat:
22
g
Saturated Fat:
19
g
Polyunsaturated Fat:
0.3
g
Monounsaturated Fat:
0.3
g
Sodium:
36
mg
Potassium:
387
mg
Fiber:
4
g
Sugar:
39
g
Vitamin A:
100
IU
Vitamin C:
84.2
mg
Calcium:
40
mg
Iron:
1.1
mg
Instructions
Pudding
Heat the coconut milk in a small saucepan over low heat. Remove about 1/4 cup and stir the gelatin into that until it dissolves completely.

Slowly pour the gelatin mixture back into the saucepan, stirring constantly. Add the honey and vanilla and mix well.

Divide the pudding evenly between four serving dishes and place the in the fridge for 30 minutes to cool and set. If they become too firm (like jello), you can whip them a little by hand to make them a little more "puddingy".

Divide the bananas, pineapple, and strawberries between the four puddings.
Syrup
Combine all ingredients in a saucepan over low heat and stir until well-mixed.

Remove from heat and drizzle over the puddings to serve.