Pancakes. The quintessential breakfast. Is there any food more comforting in the early hours of a Sunday morning? Warm, savory, and fluffy, paired with maple syrup and maybe a pat of butter or dollop of whipped cream. Sausage or bacon for a bit of protein. I can't think of a more enticing start to the day. These Banana Spice Pancakes use my go-to pancake batter of bananas and plantains, but introduce some warming winter spices into the mix. The flavor pairs well with caramel and/or coffee, if either are an option for you!
Looking for Low-FODMAP Recipes?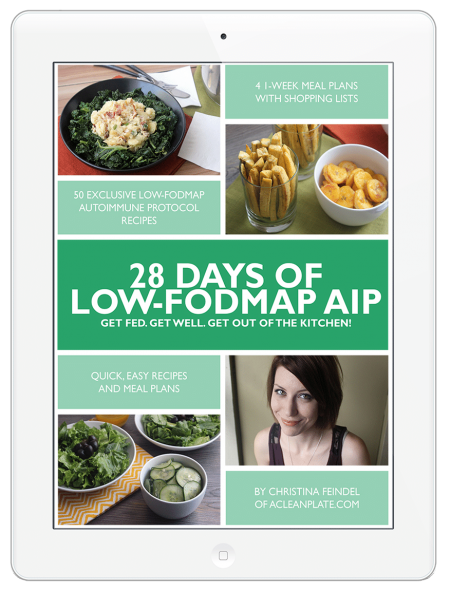 The low-FODMAP diet is often prescribed for people with IBS or Small Intestinal Bacterial Overgrowth (SIBO), and there's a huge overlap of that demographic with people with autoimmune disease. My e-book 28 Days of Low-FODMAP AIP combines both IBS- and autoimmune-friendly diets in a 28-day meal plan designed to jump start and simplify this often-challenging diet change. Just you wait: The meal plan includes 50 exclusive low-FODMAP recipes you won't find on my website or anywhere else, with dishes like Chicken Vindalo, Jambalaya, and crispy, crunchy Tostones. You'll be amazed at the variety of flavors still available to you! The ebook is available as a digital download for $9.99.
Nutrition Facts
Calories:
266
kcal
Carbohydrates:
24
g
Protein:
7
g
Fat:
16
g
Saturated Fat:
12
g
Polyunsaturated Fat:
1
g
Monounsaturated Fat:
3
g
Cholesterol:
186
mg
Sodium:
293
mg
Potassium:
414
mg
Fiber:
3
g
Sugar:
12
g
Vitamin A:
750
IU
Vitamin C:
15.7
mg
Calcium:
20
mg
Iron:
1.1
mg
Instructions
Combine all ingredients in a high-powered blender and process until smooth.

Grease a skillet or griddle over medium-high heat with coconut oil.

Pour the batter in 1/4 cup rounds onto the skillet or griddle and cook until golden-brown on the bottom, about 5 minutes.

Flip and cook the other side, about 5 minutes, then serve with desired toppings.