The thing I love most about Paleo and the autoimmune protocol is the emphasis on vegetables. As a vegan, I thought I was eating well as long as I was avoiding meat. Most of my meals consisted of grains and beans. Most of the produce I ate was fruit. Knowing what I know now, it's no surprise I wound up so sick. Paleo and the AIP acknowledge that there are a lot of bad foods you shouldn't eat, but point out that it's just as important to eat the really good foods. And recipes like these Bacon Braised Collard Greens have made it a lot easier to eat lots of vegetables than I thought it would be when I got started. They're so tasty!
Greens happen to be one of my favorite vegetables because you can take eight cups of greens, cook them down into two cups, and it still counts as eight cups when you're calculating your servings of veggies for the day! Another one of my favorite things to do with greens is include them in smoothies. With a high-powered blender, they incorporate well and the right amount of fruit can make a green smoothie highly palatable for even the most green-averse eaters. In these collard greens, bacon has a similar effect. I'm also a big fan of the hint of balsamic vinegar, but you could leave it out or use apple cider vinegar if balsamic just isn't your thing.
Don't Feel Like Cooking?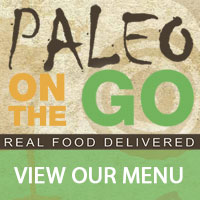 That's okay! Everyone needs a break sometimes, especially during busy times like the holidays or when you're sick or stressed out. When I find myself unwilling or unable to prepare healthy meals myself, I turn to Paleo on the Go. Yes, they have autoimmune protocol-friendly options! With tons of nutritious, delicious, pre-packaged meals, Paleo on the Go's ready-to-go, frozen courses are perfect for those days you just don't want to be in the kitchen. They even offer an appreciable selection of AIP-friendly treats, including toaster pastries!
Nutrition Facts
Calories:
69
kcal
Carbohydrates:
1
g
Protein:
5
g
Fat:
5
g
Saturated Fat:
2
g
Polyunsaturated Fat:
1
g
Monounsaturated Fat:
2
g
Cholesterol:
14
mg
Sodium:
613
mg
Potassium:
72
mg
Sugar:
1
g
Calcium:
1
mg
Iron:
0.4
mg
Instructions
Remove any tough stems from the leaves.

Cook the bacon in a large skillet over medium-high until just beginning to crisp. Add the greens and stir-fry 5 minutes, then add the vinegar and cook another 2-3 minutes.

Add the broth, reduce the heat to medium-low, and simmer until the greens are tender, 5-10 minutes. Season with salt and pepper to serve.