Sometimes you just don't feel like cooking. Heck, maybe it's most of the time. That's okay. Even if you're trying to eat healthy, dinner doesn't have to be an elaborate, hour-long slog of chopping, stirring, waiting, and cleaning dishes. This Asian Slaw Stir-Fry is one of my favorite quick and easy meals for a busy weeknight or lazy day. It takes hardly any effort to prepare, especially if you use pre-cut vegetables, and is ready in about 20 minutes flat. It offers a wonderful depth of flavor that's guaranteed to satisfy those cravings for Asian food. I also recommend it for anyone that thinks they don't like cabbage! Cooking it reduces some of the bitterness and the seasonings and beef work really well here. You can also use pork if you'd prefer. This is an awesome recipe if you want to get a larger variety of vegetables, particularly cancer-fighting crucifers, into your diet. Plus, cabbage is cheap!
Keep Your Health on Track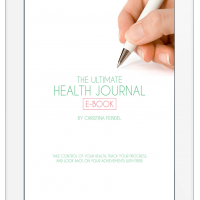 Whether you're starting the autoimmune protocol, a new medication, an exercise routine or trying to get to the bottom of your headaches or indigestion, cataloging your activities and symptoms is a great way to gauge your progress. The Ultimate Health Journal can help you stay on track with diet, fitness, and other lifestyle changes you have begun or been prescribed, notice patterns in your health and lifestyle so you can enact positive changes, and provide a valuable tool for you, your family, and your healthcare team. I would never have noticed that cinnamon makes me sneeze or dairy gives me hiccups without keeping a written record during my elimination diet, which helped me see the patterns that solved my problems! The ebook is available as a digital download with printable template for $6.99.
Nutrition Facts
Calories:
529
kcal
Carbohydrates:
27
g
Protein:
32
g
Fat:
33
g
Saturated Fat:
13
g
Polyunsaturated Fat:
4
g
Monounsaturated Fat:
13
g
Cholesterol:
101
mg
Sodium:
1493
mg
Potassium:
960
mg
Fiber:
12
g
Sugar:
10
g
Vitamin A:
9600
IU
Vitamin C:
155.1
mg
Calcium:
140
mg
Iron:
4.7
mg
Instructions
Heat the oil in a large skillet over medium heat, then add the beef, garlic, and ginger and stir-fry until cooked through, about 5 minutes.

Add the cabbage and carrot and cook another 5 minutes or until the vegetables are tender.

Stir in the aminos, oil, and fish sauce and season with salt to taste. Serve garnished with a drizzle of lime juice.