This was the very first whole turkey I ever made, and it was divine. I was never a huge fan of my family's typical turkey-with-gravy-and-stuffing Thanksgiving dinner, so this spin using apples and apple cider sounded right up my alley! If you're looking for a new spin on turkey too, I highly recommend this one!
Treat Your Sweet Tooth!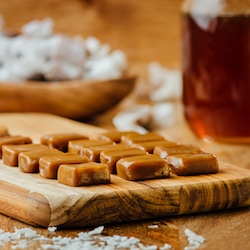 Being on a restricted diet doesn't mean you have to give up every indulgence. Temptation can be rough, and when it strikes, it's nice to have something on hand that's safe to eat. Enter Sweet Apricity. They make creamy, delicious caramels and fluffy marshmallows that just so happen to be 100% autoimmune protocol-friendly. With excellent customer service, high-quality ingredients, a subscribe and save program, and some of the most incredible sweets you'll encounter on the AIP, your sweet tooth doesn't have to go wanting. Plus, they're a great gift for anyone with food sensitivities!
Total Time:
2
hours
30
minutes
Nutrition Facts
Calories:
315
kcal
Carbohydrates:
18
g
Protein:
35
g
Fat:
12
g
Saturated Fat:
6
g
Polyunsaturated Fat:
1
g
Monounsaturated Fat:
3
g
Cholesterol:
107
mg
Sodium:
2766
mg
Potassium:
688
mg
Fiber:
2
g
Sugar:
12
g
Vitamin A:
9
%
Vitamin C:
24
%
Calcium:
4
%
Iron:
18
%
Instructions
Combine the fat, honey, and seasonings into a paste. Pat half of it under the turkey's skin and the other half on top of the skin. Cover and refrigerate overnight.

Preheat the oven to 325F. Place the turkey breast-side-up on a roasting pan. Stuff the turkey with apples, onions, and garlic and place any leftover produce at the bottom of the pan along with 1 cup apple cider.

Roast the turkey for about 2 hours or until it reaches 165F in the breast, turning once halfway through and basting with its own juices as needed. If the skin starts to pass golden-brown before the turkey is done, place aluminum foil over the turkey. When done, remove from the oven and let sit for about 20 minutes before carving.

To make the gravy, strain the juices in the bottom of the pan into a saucepan over medium heat. Add the arrowroot and 1/2 cup apple cider and whisk until thickened, adding more arrowroot as needed.