This Thai Iced Fruit Salad has become one of my favorite summer treats. With a sweet sauce made from coconut milk and honey in lieu of the traditional sweetened condensed milk, it's an even healthier spin on an already pretty decent dessert. You can use any combination of fruit you like–strawberries and bananas, a berry medley, mango and dragonfruit, kiwi and cherries, anything and everything you have on hand. Feel free to adjust the amount of honey to taste as well as how much sauce you put on each serving. Some AIP caramel or chocolate sauce would make a fun addition, too!
Struggling with thyroid disease?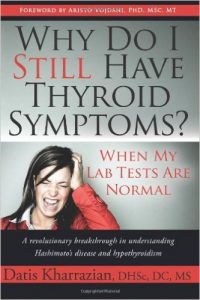 Why Do I Still Have Thyroid Symptoms?
by functional medicine practitioner Datis Kharrazian is single-handedly responsible for my improved health over the past few years. It introduced me to the connection between autoimmune disease and lifestyle factors like diet at a time when my doctors were telling me there was nothing wrong with my thyroid even though I had high antibodies. This book gave me the information I needed to get the right tests ordered and seek proper treatment. It's a must-have guide for anyone who has already been diagnosed with thyroid disease, who is at risk due to family history, or who strongly suspects they may have it but isn't sure where to start. I can't recommend it enough!
Ingredients
2

cups

ice

(shaved)

1

cup

blueberries

1

large

mango

(diced)

6

tablespoons

coconut milk

1/8

cup

honey
Instructions
Divide the ice between four serving dishes and top with blueberries and mango.

Mix the coconut milk and honey together and drizzle 1/4 of the mixture over each dish, then serve immediately.