Summer has just barely gotten started around here, and it's already brutal. Now that we're homeowners, we've been spending a lot of time in the yard, trying to salvage what life we can after the place sat vacant for a month prior to our move-in. There are weeds everywhere. Dead grass. Overgrown trees and an army of mushrooms feasting on the roots of one the previous owners removed. Not to mention all the insects! So of course, we've been guzzling our fair share of cold beverages. Tons of water. Beers for him, when all the work is done and he's ready to relax. Every now and then I find myself craving the refreshments of my youth, a Sprite or iced tea. But with my interstitial cystitis, water's pretty much the only beverage I can tolerate–caffeine, juice, and most teas aggravate my sensitive bladder. Fun stuff, right? Fortunately, you can made some pretty satisfying beverages with water! Give this Strawberry-Melon Agua Fresca a whirl and you'd never know I concocted it because I couldn't have anything else: It's so good you won't want anything else. Next time you're out doing yard work, pop some of these in the fridge and I promise they'll take the sting out of the summer heat!
Struggling to Start the Autoimmune Protocol?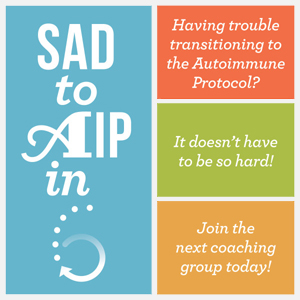 Living with chronic illness can be isolating enough without overhauling your lifestyle, often without the full support of family members who don't want their diets to change. But you don't have to go through it alone. SAD to AIP in SIX, from Nutritional Therapy Practitioner and author of The Alternative Autoimmune Cookbook Angie Alt, will coach you step-by-step through the transition from the standard American diet (SAD) to the autoimmune protocol (AIP). The six-week course includes coaching from Angie and her team, support from your peers in the program, and reference materials–it's an incredible bargain compared to private health coaching sessions. If you're struggling to make the change to the AIP or feeling isolated on your health journey, this is the program for you!
Ingredients
2

pounds

strawberries

(hulled)

1

small

honeydew melon

(peeled and chopped)

1

cup

mint

(chopped)

1/4

cup

lime juice

6

cups

sparkling water
Nutrition Facts
Calories:
140
kcal
Carbohydrates:
34
g
Protein:
4
g
Fat:
1
g
Saturated Fat:
0.2
g
Polyunsaturated Fat:
1
g
Monounsaturated Fat:
0.1
g
Sodium:
60
mg
Potassium:
869
mg
Fiber:
11
g
Sugar:
17
g
Vitamin A:
56
%
Vitamin C:
290
%
Calcium:
23
%
Iron:
25
%
Instructions
Combine the berries, melon, mint, and lime juice in a blender and process until smooth.

Pour into a pitcher and stir in the sparkling water, then serve over ice.