I freakin' love basil. Like, I'll just snack on it raw, right off my basil plants. Yep, plants, plural. I have two and they spread like wildfire. I'm in there trimmin' off a quarter cup of basil just about every day. It's exhausting, to be honest. I've got dried basil, frozen basil, basil turned into jams, basil everywhere. So much basil I almost don't know what to do with all of it. Almost. Recipes like this Strawberry Basil Salad come to the rescue every time I need to get rid of a huge amount before it goes bad!
(But seriously, if anyone had told me how much maintenance those basil plants would need, I probably would've only planted one of them.)
But, to the recipe. Strawberries and basil are a classic combination. So are strawberries and balsamic vinegar. The flavor combinations of basil and balsamic feel decadent with the sweetness of strawberries, so much so that I often make desserts out of them. (We've been having our fair share of Strawberry Basil Balsamic Ice Cream since my plants started growing, too.) But they're good in savory side dishes like this one, too! It's a light, refreshing salad perfect for summer.
Make your own non-toxic cosmetics!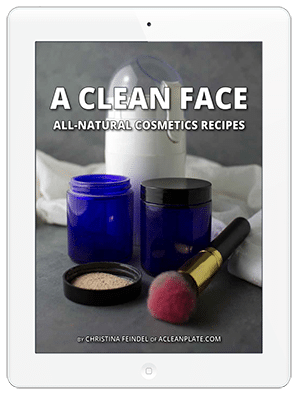 I may make my living as a food blogger, but journey toward a more health-conscious lifestyle actually began with making my own cosmetics while I was still in high school–many years before I started "clean eating". Desperate to get a handle on my sensitive skin and nose, I was also hoping for cheaper, more eco-friendly alternatives to store-bought products. If you're in the same boat, making your own cosmetics and toiletries is easier than you might think! My e-book A Clean Face will give you the tools you need to get started for just $9.99.
Ingredients
Salad
9

cups

spinach

(chopped)

1

pound

strawberries

(chopped)

1

cup

basil

(chopped)
Equipment
Nutrition Facts
Calories:
213
kcal
Carbohydrates:
19
g
Protein:
4
g
Fat:
16
g
Saturated Fat:
2
g
Polyunsaturated Fat:
2
g
Monounsaturated Fat:
11
g
Sodium:
295
mg
Potassium:
832
mg
Fiber:
6
g
Sugar:
10
g
Vitamin A:
193
%
Vitamin C:
168
%
Calcium:
19
%
Iron:
23
%
Instructions
Combine the spinach, strawberries, and basil in a salad bowl.

Combine the remaining ingredients separately and mix well. Toss the dressing and salad together before serving, chilled.