Those of you across the pond may be horrified to learn this, but soft-boiled eggs aren't really a thing in the average American household. I'd heard of them, and I'd seen egg cups in films, but it just wasn't something we ever did. Hard-boiled eggs, now, those were everywhere. Salads. Potato salads. Pasta salads. School lunches. Quick breakfasts. Anyway, I thought it was well past time I finally tried this English staple. These Soft-Boiled Eggs come together quickly and painlessly, and for those of you that don't have egg cups (like me!), you can stand them up in a bowl of rice (or cauliflower rice) and have something to soak up any runaway yolk as an added bonus!
Looking for more easy AIP recipes?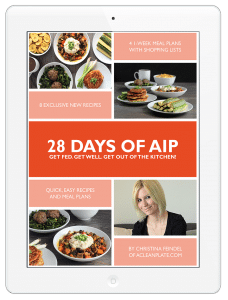 I know diet change can feel overwhelming. I started the autoimmune protocol at a time when only four other people were writing about it, and over the years, I've striven to give you the resources I wish I'd had when I got started. Not just recipes, but ways to implement them. My first ebook 28 Days of AIP is a meal plan that will help you get going (or get back on the wagon) with as little fuss as possible. With a variety of simple, delicious recipes, plenty of leftovers so you don't spend all your free time in the kitchen, and shopping lists ready to go, all you have to do is follow the plan, then sit down and enjoy your meal! It's available as a digital download for $9.99.
Nutrition Facts
Calories:
65
kcal
Carbohydrates:
0.3
g
Protein:
6
g
Fat:
4
g
Saturated Fat:
1
g
Polyunsaturated Fat:
1
g
Monounsaturated Fat:
2
g
Cholesterol:
186
mg
Sodium:
69
mg
Potassium:
59
mg
Sugar:
0.3
g
Vitamin A:
200
IU
Calcium:
20
mg
Iron:
0.7
mg
Instructions
Bring the water to a boil over high heat in a lidded saucepan or stock pot.

Add the eggs, cover the pot, and remove from the heat. Let sit for 4-7 minutes depending on how soft you want the yolks: 4-minute eggs still have a raw yolk while 7-minute eggs will have a slightly-set yolk.

Drain when desired, then serve.